The Obama loyalists are lining up behind the president's plan to gut Social Security.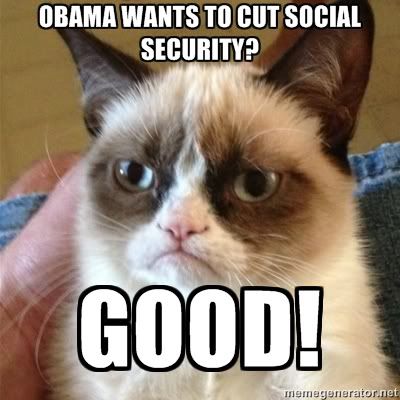 Apparently, there is no good time to criticize the president. We can't have a primary because that would hurt his re-election chances. We can't criticize his foreign policy because that would hurt is re-election chances. We can't have real progressives in key offices because the business community might get butt hurt and support the GOP. We can't criticize or protest anything because President Obama will have a sad. No, we have to do whatever he wants and accept his judgment no matter what.
No thanks. Cutting Social Security, a program that adds NOT ONE STINKING PENNY to the deficit, in the name of deficit reduction is immoral, anti-intellectual and anti-Democratic. President Obama threatened to sell out the elderly so he could have the term "bipartisan" etched under his face on Mount Rushmore.
And I'm not going to shut up about it. Do you think that the wealthy people who funded Obama's campaign -- and want that floor on tax increases as close to $1,000,000 as possible -- aren't pulling every lever of power within their reach? Oh no. I'm so sure that they are sitting at home saying, "I donated tens of thousands of dollars to Democrats, but I'm not going to exert any pressure on them right now." If the rich and powerful just trusted Obama and supported him no matter what, there wouldn't be hundreds of millions of dollars spent on lobbying each year.
I'm not rich. I can't afford to buy a politician or donate to a SuperPAC. My only option is to speak anywhere and everywhere I can to say that this proposal is unacceptable. I don't care if the Obama loyalists don't like it. Barack Obama works for ME! He's my president, not my daddy.