The Palm Center has received a $1.35 million grant from the Tawani Foundation over the next three years to study the feasibility of service by transgender people in the military. The Tawani Foundation, which was founded by Col. James Pritzker, cousin of Commerce Secretary Penny Pritzker, aims "to affect significant transformation of organizations and educational programs that enrich knowledge, preserve military heritage, improve health and wellness and conserve uniquesites for enduring positive impact on individuals, communities and societies."
The Palm Center coordinated research into the Don't Ask, Don't Tell policy for ten years.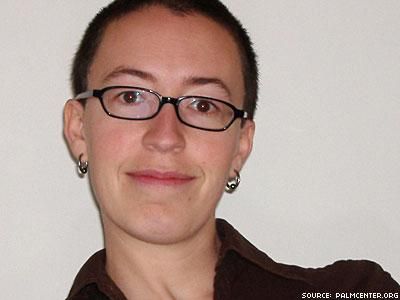 The project director for the Palm Center's Transgender Military Initiative is Indra Lusero. Lusero has commissioned 16 scholars to conduct 11 studies investigating "whether and how the US Armed Forces could include transgender troops without undermining military readiness." Subjects will range from privacy and medical accommodations to the experiences of foreign militaries and sports programs.
Public dialogue based on state-of-the-art scholarship is critical in so many areas of civic life, and it is particularly vital when it comes to military policy. As one of the largest employers in the world, and certainly the country, US military policies have far reaching effects. We are looking forward to bringing some solid research to this topic in the coming months.

--Indra Lusero
The call for proposals, which closed on June 15, specifically listed these 11 subjects:
Cost and complexity of care
Discrimination and readiness
Foreign militaries and transgender service
Institutional privacy accommodations
Organizational effectiveness and transgender inclusion
Physical standards and transgender service
Privacy in the US military
Transgender sports
Transgender medical accommodation
Uniform regulations
US military accommodation of serious medical conditions

--Link
As transgender servicemembers who are regularly mistreated in the military know, the problem is not entirely one of gays in the military or women in the military, but rather one of policing of gender roles in the military in order to stem a wider "social apocalypse". That policing is executed in a variety of ways including harassment, discharge, and exclusionary policies.
I'm a big believer in ongoing research, and this is a crucial first step in that effort.

The education dimension for getting people to understand the importance of openly gay service in the military, getting the country and the military and the Congress in the right position was a long game. The same kind of long game in regard to transgender service has not yet been played.

It's absolutely something we need to do. I think it shouldn't take as long as 'don't ask, don't tell' [repeal], but I do think that that research piece of the puzzle does need to be put into place.

--Nathaniel Frank, author of Unfriendly Fire: How the Gay Ban Undermines the Military and Weakens America
Current U.S. military regulations regularly lead transgender service members to be discharged if their gender identity is found out. Unlike the "don't ask, don't tell" law that had to be repealed by Congress, however, the regulations that lead to transgender-based discharges could be changed by the leadership at the Pentagon or President Barack Obama.
This academic research will inform an important public conversation by providing facts and evidence about transgender military service and gender expression in armed forces. Militaries around the world are updating their policies, and we are already conducting research in Canada, Britain and Australia to learn whether their trans-inclusive regulations have impacted readiness.

--Lusero
While I did serve in the US Army during the Vietnam Era as a correctional specialist at the Big House (The United States Disciplinary Barracks at Ft. Leavenworth), I'm not a big fan of military service. But fair is fair, and the military is a huge employment opportunity which is presently closed to transpeople.