Tonight is the big night! Who is going to win the White House? The warmongering Wall Street toolbag or the warmongering Wall Street toolbag?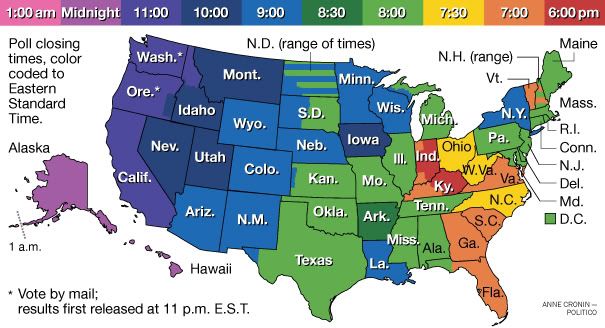 I'll be watch a few races very closely this evening, listed below in order of when the polls close.
At 7pm, polls close in six states, including two states with competitive Senate races, Virginia and Indiana. In Virginia, Nate Silver gives Democrat Tim Kaine a 87.7% chance of defeating Republican George "macaca moment" Allen. Nate Silver also gives to the Democratic candidate in the Indiana Senate race, where he gives Teahadist Richard Mourdock a 69.8% chance of being defeated by Democrat Joe Donnelly. I'm not a big fan of Blue Dogs like Joe Donnelly, but Richard Mourdock's comments about rape should disqualify him from public office.
At 7:30pm, polls close in North Carolina, Ohio, and West Virginia. As a gay man fed-up with being treated as the red-headed step child of the Democratic Party, I hope and pray that the North Carolina Democratic Party is decimated by the GOP this year. They sold the LGB community the river this spring because they didn't want to be on the ballot with a gay marriage ban. Sherrod Brown is widely expected to win re-election to his Senate seat over his opponent, whose picture I think probably appears next to the word "dweeb" in many dictionaries. Ohio has an initiative to end gerrymandering that seems unlikely to pass. I'm sure that the confusing wording approved by the GOP is just a coincidence.
At 8:00pm, polls close in 16 states and Washington, DC. In Massachusetts, Elizabeth Warren is expected to defeat the centerfold turned bully, Scott Brown (Nate Silver: 93.7%). Although I'm not a big fan of Sen. Bill Nelson (D-FL), I'll enjoy seeing him defeat Rep. Connie Mack IV (R), a spoiled bully who road his father's coattails into office. (Speaking of coattails, his wife, Rep. Mary Bono Mack (R-CA) might lose her seat this evening, as well). The Florida legislature put a bunch of nasty amendments on the ballot this year including one to restrict abortion, one to give public money to churches, and one to oppose Obamacare. Hopefully, tonight will be the end of Linda McMahon, whose desperation knows no bounds. For me, the big races I'm looking at at 8pm are the marriage equality initiatives in Maryland and Maine. Most public polls put the pro-equality side in the lead, but the polls have disappointed the gay rights movement before. I know that Sen. Claire McCaskill has been a disappointment to some VOTS readers, but I admired her passionate defense of the Affordable Care Act in Missouri. And her opponent, Rep. Todd Akin, is a religious extremist and I will celebrate his defeat. Nate Silver gives Sen. McCaskill a 98.3% chance of holding her seat.
At 9:00pm, polls close in thirteen states, including Arizona, Colorado, Minnesota, Nebraska, and Wisconsin. The sexual minority community will be paying close attention to the anti-marriage equality amendment up for a vote in Minnesota, where polls seem to suggest it might pass. One advantage for the "no" side is that blank ballots (where voters skipped the amendment) are effectively considered a "no" vote. We'll also be watching the senate race in Wisconsin, where voters seem poised to elect the first openly gay candidate to the US Senate. Nate Silver gives her a 78.7% chance of defeating Tommy Thompson. I know the party loyalists are crossing their fingers for a surprise victory by Bob Kerrey in Nebraska (Nate Silver says Republican Deb Fischer has a 99.4% chance of winning), but we have enough anti-Medicare, anti-Social Security Democrats in the caucus. I'm hoping for a double-digit loss to scare off other such "centrists". In Colorado, we have an initiative to de-criminalize marijuana. Polls seem to suggest that the initiative will pass. Am I the only one who thinks it would be HILARIOUS if pot got more votes than Obama?
At 10:00pm, polls close in Iowa, Montana, Nevada, and Utah. In Utah, Republican Mia Love seems poised to become the first black Republican woman in the House of Representatives. I'm hoping that tonight's big surprise happens in the Nevada Senate race, where Democrat Rep. Shelley Berkley is expected to fall short against Republican Sen. Dean Heller (Nate Silver gives Heller an 83.4% chance of holding his seat). GOP megadonor Sheldon Adelson has spent millions trying to stop Rep. Berkley and it would warm my heart to see more of his fortune flushed down the toilet (after the tens of millions he threw at Newt Gingrich and Mitt Romney). Democrat Christine Vilsak is trying to make history by becoming the first woman elected to Congress from Iowa. She is also running against one of the biggest assholes in the Republican Party. A recent poll gives Rep. Steve King the edge. In Montana, Sen. Jon Tester is narrowly trailing Rep. Rick Berg. Nate Silver gives the GOP a 65.6% chance of taking the seat, but I'm hoping that the beef-lovers come to his rescue.
At 11:00pm, polls close in six more states, including California, Oregon, and Washington. In Washington, initiatives to legalize gay marriage and decriminalize marijuana were leading in a recent poll. The marijuana decriminalization amendment in Oregon was trailing in recent polls. In California, GOP Rep. Mary Bono Mack may lose her seat to Democrat Raul Ruiz, MD. Apparently, telling 39.4% of your constituents that you won't talk to them until after the election is bad campaign strategy. Who knew? California also has some interesting ballot initiatives, including competing tax increases, an attempt by rich right wing assholes to keep unions from spending money in elections, and a food labeling initiative which, if passed, will keep food manufactures from labeling products with genetically-modified ingredients "natural".
Apparently, Alaska closes at 1:00am, but the only person who will be awake at that hour is priceman. I'll leave it to him to cover those exciting races.
So which races are y'all watching closely tonight?
------------------------------------------------------------------------------------------------------------------
Indiana Update (7:10 pm). Richard Mourdock is in trouble:
RT @forecasterenten: In early Indiana returns, Mourdock is running 10 pts behind Romney's % of the vote. Not good for him.

— Andrew Kaczynski (@BuzzFeedAndrew) November 6, 2012
Florida Update (7:21 pm). Of course it's a mess. Eff you, Rick Scott.
Long lines extend voting past 7 p.m. in Central Florida thesent.nl/SrLjzN #cfelection #election2012

— Orlando Sentinel (@orlandosentinel) November 7, 2012
Indiana Update (7:28pm). Indiana women did not like Mourdock's comments. Donnelly up 9% among women. President Obama is down 5% among women.
FYI (7:40pm).
When you hear "too early to call" from us in a state that is predictable, it simply means we didn't exit poll it, need to wait for raw vote — Chuck Todd (@chucktodd) November 7, 2012
Also from Chuck Todd (7:42pm).
Talking to some Senate insiders, and apparently the Libertarian candidate is taking more votes from Donnelly than Mourdock. Why it's close — Chuck Todd (@chucktodd) November 7, 2012
LOL (8:04pm).
Exit polls currently show Nate Silver winning this election. — Ezra Klein (@ezraklein) November 7, 2012
Maine Senate (8:08pm) race goes to Angus King. Connecticut, Missouri, Massachusetts, Pennsylvania, and Virginia are too early to call. Bill Nelson won in Florida. One Mack down, one more to go. Let's do this California! Indiana Update (8:25pm).
Slate's @daveweigel says Mourdock is toast: slate.com/articles/news_… — Matt Yglesias (@mattyglesias) November 7, 2012
Connecticut (8:34pm) goes to Chris Murphy. Does this mean that rich, clueless Republicans will stop wasting their fortunes on Blue State Senate races? Amen (8:37pm)
Thinking Harry Reid's pretty happy to trade Joe Lieberman for Chris Muprhy — Ben Smith (@BuzzFeedBen) November 7, 2012
Alan Grayson (9:00pm) is up 62-38% with 30% of the vote in. Buh-bye (9:13pm)
NBC News calls Massachusetts Senate seat for Elizabeth Warren. #Election2012 — Reuters Politics (@ReutersPolitics) November 7, 2012
MSNBC just called Pennsylvania for Casey. MA Senate Update (9:22pm) Looks like she isn't Senator Warren just yet.
I got taken in by a Twitter rumor that NBC has called MA for Warren. It hasn't. My apologies. — Ezra Klein (@ezraklein) November 7, 2012
Wisconsin Update (9:32pm). NBC called Wisconsin for Obama. Hopefully that bodes well for Tammy Baldwin! Still no call in Massachusetts, Virginia, or Indiana, but NBC just called Ohio for Sherrod Brown. No Senator Dweeb. Florida Update (9:37pm). Alan Grayson is back in Congress.
Alan Grayson back in Congress. — Glenn Greenwald (@ggreenwald) November 7, 2012
Hot Damn (9:45pm)
FOX projects Democrat candidate Donnelly wins U.S. Senate seat for Indiana. #Election2012 — Reuters Politics (@ReutersPolitics) November 7, 2012
RT @caro: MSNBC now saying Elizabeth Warren has ousted Scott Brown. — Anthony De Rosa (@AntDeRosa) November 7, 2012
Missouri update (10:12pm). Another religious extremist is defeated!!!!
Networks declaring Sen Clare McCaskill D-MO the winner in the Missouri Senate race over Rep Todd Akin — Jamie Dupree (@jamiedupree) November 7, 2012
I guess Bob Kerrey (10:20pm) will have to go back to New York. I'm not shedding any tears over this.
Bob Kerrey loses NE-Sen race to Deb Fischer — Taegan Goddard (@politicalwire) November 7, 2012
Wisconsin Update (10:29pm). Apparently, Fox News called it for Baldwin almost 45 minutes ago, but nobody else has. Tim Kaine wins Virginia (10:33pm).
Correction - CBS News projects: Democrat candidate Kaine wins Virginia Senate seat. #Election2012 bit.ly/RDyUv4 (fixes name) — Reuters Politics (@ReutersPolitics) November 7, 2012
BREAKING (10:55pm)
RT @andylassner: Breaking: Women cautiously optimistic about retaining control of their vaginas — Kerry Eleveld (@kerryeleveld) November 7, 2012
It's official!!!
NBC is now projecting @fivethirtyeight as the President of the United States. — Christopher Hayes (@chrislhayes) November 7, 2012
Maryland Update (11:38pm) Politico projects that the marriage equality initiative will pass! (11:40pm) Other sources are reporting different numbers with a much closer margin. Washington/Maine Update (12:10am)
In historic vote, Maine residents favor allowing same-sex couples to legally marry: apne.ws/TJHdGz #Election2012 — The Associated Press (@AP) November 7, 2012
BREAKING: Washington State becomes first state to legalize marijuana

— Bloomberg News (@BloombergNews) November 7, 2012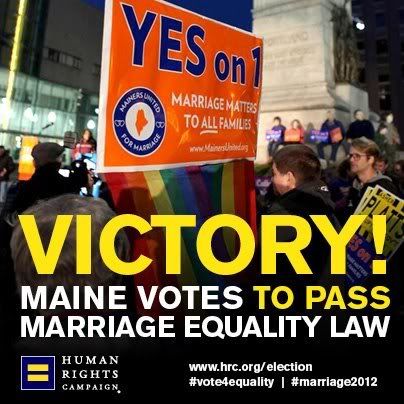 Homophobia is defeated in Maryland!!!! (12:24am)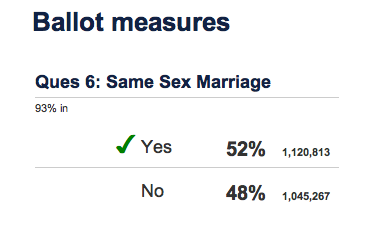 And Colorado!!! (12:27am)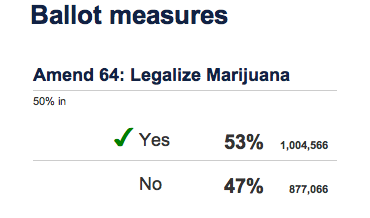 Tammy Baldwin gives her victory speech.