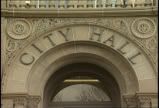 I read an interesting piece by Yves Smith at Naked Capitalism the other day (which I encourage people short of time to read in its entirety rather than reading the blockquote below and my modest addendum), entitled Why Progressives Are Lame. A few blockquotes do not do the piece justice, I did particularly like:
Reviewing the summary above, it will be evident that progressives are ill-equipped by objective and inclination both to succeed in bare-knuckle political strife. One could say unflatteringly that the goal of 'progressives' in activism is to raise their personal karma by standing up for what is right. "Sinners repent," is the substance of their message, and their best dream would be to have those in the wrong do just that, to embrace progressive issues and implement them. More cynically, one wonders whether progressives would be entirely pleased if all of their reforms were implemented, leaving nothing to inveigh against.
How did a great swathe of Americans sit back and let these hard-gotten gains be rescinded? While there are no doubt many causes, let me posit a few. One was that the middle class chose not to identify much with radical goals. The whole point of being middle class was to leave all of that behind, not just the poverty but the opposition to authority. Another was that it seemed inconceivable, at least for the post-war and Boomer generations, that these economics rights would be withdrawn....
So that takes us full circle to McKibben's post, on leadership. I'd hazard that he's wrong, that the only thing that might rouse downtrodden formerly-middle-class-in-denial Americans from their stupor is in fact the sort of charismatic leader he renounces as anachronistic and outré, say 21st century Huey Long or Jean Jaurès (or less ill-starred, David Lloyd George). The sort of distributed leadership that has become fashionable of late is well suited for local action or loosely coordinated movements. But the entrenched elites will require a visible show of force for them to cede any ground. That means key figures need to serve as lenses to concentrate the energy of ordinary citizens who no longer have outlets for their grievances.
 
More on the Argument
This piece is a reaction to a post by Bill Mckibben about social change and leadership. However, it sets off in a different direction than the McKibben, because she focuses on a comment to that post by Dan Kervick, which is really the foundation of this piece:

Others have already touched on this, but I think McKibben's piece focuses too much on the question of whether or not it is important to have the single charismatic leader, and not enough on equally important questions about whether or not it is important to have organization, long-term plans and a grand political strategy. The picture I get from reading McKibben and many others is of a movement that consists in the spontaneous generation of organized resistance here and there to some of the projects of the powerful. The movement is successful in that instance if the project is thwarted, and fails if the project is carried through.
But resistance is what you have to do when you don't have political power yourself. Isn't there any left remaining out there that actually wants to achieve political power? It doesn't seem so. Rather, it seems to me the contemporary left prefers to be powerless and prefers to be permanently on the side of the rebels and resistors, opportunistically throwing monkey wrenches into the inexorable progress of some alien Leviathan.
That can certainly be a useful orientation. But in some way it is not very ambitious. On the one hand there is a great deal of admirable energy and sweat going into such a movement, and there will be some successes here and there. But on the other hand the orientation of the permanent resistor defines itself by a kind of long-term surrender to the inexorable control by The Powers That Be. There is something fearful and weak in this attitude, an unhealthy embrace of outlook of the subordinated peasant.
~~~~~~~~~~~
Musical Accompaniment: Fight the Powers that Be, Public Enemy
~~~~~~~~~~~
Yves points to a 2011 post by by Richard Kline, Progressively Losing, and quotes a key point made by Richard Kline, which to my mind accounts for a large part of the success of the New Deal Coalition, which those who grew up under its watered down post-WWII form often forget brought independent progressives together with independent labor, populist and granger movements:

The first key point is that the tradition of progressive dissent is integrally a religious one. The goal isn't usually power but 'truth;' that those in the right stand up for what is right, and those in the wrong repent. The City on the Hill and all that, but that is the intrinsic value. This is a tradition of ideas, many of them good, many of them implemented—by others, a point to which I'll return. Coming forward to a recent and then present American context, consider these policies, all of which still hold for most who would define themselves as progressive:

Anti-colonialism
Anti-militarism
Abolition
Universal, secular education
End to child labor
Universal suffrage
Female legal equality
Consumer protections
Civil rights
Conservation/environmentalism
... A most relevant point is that these are value-driven policies. Notably absent are economic policies. I wouldn't say that progressives are disinterested in economic well-being, but employment and money are never what has driven them. A right-living society, self-improvement, and justice: these are progressive goals. Recall again that many of them were already bourgeois; that most of historical notice had significant education; that their organizational backbone was women of such background. These conditions apply as much now as ever. Some progressives, many of them women, were radicalized by their experience of social work among the abused poor in the late 19th and early 20th centuries. Consider Beatrice Potter Webb or Upton Sinclair. Some progressives will fight if backed into a corner; many won't even then, as there is a strong value placed on pacifism in this socio-community. Think John Woolman and Dorothy Day.
So progressives can plant the seed, but are not well suited to the hard knuckles politics required to harvest the fruit. And Richard Kline points to radicals:

The key point is that the tradition of radical activism is integrally an economic one, and secondarily one of social justice. It was pursued by those both poor and 'out castes,' who often had communal solidarity as their only asset. It was resisted by force, and thus pursued by those inured to force who understood that power was necessary to victory, and that defeat entailed destitution, imprisonment, and being cut down by live fire from those acting under color of authority with impunity. This was a tradition of demands, many of them quite pragmatic. Few were wholly implemented, but the struggle to gain them forced the door open for narrower reforms, often implemented by the powers that be to de-fuse as much as diffuse radical agitation. Consider these policies, all of which still hold for most who would define themselves as radical:

Call off the cops (and thugs)
Eight hour day and work place safety
Right to organize
Anti-discrimination in housing and hiring
Unemployment dole
Public pensions
Public educational scholarships
Tax the rich
Anti-trust and anti-corporate
Anti-imperialism
To see a current example of the distinction here in the politics of fighting the Climate Suicide Pact, consider the Keystone XL fight. The point of the Keystone XL fight is that its a demand. Its a demand that the Administration can grant, without the excuse that Congress won't let it, since the current rules of the game say that the Administration currently has the say, and there is no veto-proof majority in both Chambers to over-turn an Administration decision to block it. The Keystone XL pipeline mobilization is the politics of resistance, using one of the tactics of the politics of resistance, which is to put one of the Powers That Be that claims to be an ally and put them on the spot, where they cannot hide behind the actions of one of the others of the Powers That Be, "oh, we wanted to, but they wouldn't let us.
Anyone who has been resisting the Climate Suicide Pact over the years will recognize supposed allies in the fight who act like Atlantic City bootlegger "Nookie" Thompson in HBO's Boardwalk Empire talking to the Ladies of the Temperance League about how he supports Prohibition, but some of his colleagues will be slower to change. The Keystone XL fight is the kind of "put up or shut up" confrontation that tackles that commonplace two-faced behavior by politicians.
But you don't just find the Climate Kamikazes in opposition to the mobilization in opposition to the Keystone XL pipeline extension. You also find self-identified progressive voices, arguing the stopping the Keystone XL pipeline will not cut CO2 emissions by much, and so it is unreasonable to make such a big deal about such a modest impact. David Robert at Grist has an excellent piece, The virtues of being unreasonable on Keystone, that focuses on the establishment critics along these lines, highlighting the fact that these critics don't actually point to an alternative fight to engage in that promises a prospect to cut CO2 emissions by more. After all, mobilizing to actually cut CO2 emissions by something is better than waiting around spinning with our thumbs up our posteriors waiting for the perfect opportunity to have a big impact to come along.
 
The Progressive Veal Pen
This discussion brings to my mind Jane Hamscher's analogy of the relationship with self-identified "progressive" groups and the Democratic Establishment as a "Veal Pen". A real veal pen is an enclosure in which a calf is raised for three or four months to be slaughtered for veal, which is too small to turn around in or even to sit down. Jane Hamscher's Virtual Veal Pen is:

Soon after the election, the Administration began corralling the big liberal DC interest groups into a variety of organizations and communication networks through which they telegraphed their wishes — into a virtual veal pen. The 8:45 am morning call co-hosted by the "liberal" Center for American Progress, Unity 09, and Common Purpose are just a few of the overt ways that the White House controls its left flank and maintains discipline.
My own experience with the Veal Pen came indirectly, when some of them had the temerity to launch a campaign against Blue Dogs. They were rebuked and humiliated in front of their peers as a lesson to them all at a Common Purpose meeting, which is run by lobbyist Erik Smith. White House communications director Ellen Moran attends. It isn't an arms-length relationship between these groups and the administration.
A few weeks ago, Rahm Emanuel showed up at a Common Purpose meeting and called these liberal groups "fucking stupid" for going after Blue Dogs on health care and ordered them not to do so any more. Since that time, to the best of my knowledge, none of them have.
~~~~~~~~~~~
Musical Accompaniment: Power and the Passion, Midnight Oil
~~~~~~~~~~~
In my experience, many focus on the establishment side of the Virtual Veal Pen: why it is that politicians who identify themselves with Progressive values and promise Progressive policies on the campaign trail turn around to neuter and strip the power of progressive groups when they come to power. But my attention is drawn to the progressive groups.
The key problem with the Virtual Veal Pen is that it is a self-organizing system. That is, independent of any establishment individual or group with the straregic capability, strategic intelligence and tactical finesse to maneuver "Progressive" groups into a Virtual Veal Pen, we will still see Progressive Groups forming into a Virtual Veal Pen. Indeed, it may be a Red Herring to focus on what the establishment has done to disempower "Progressive" groups, when the "Progressive" groups left to their own devices so often disempower themselves.
Part of this is the Adjective Problem.
"Progressive" on its own is meaningless. If one had a bunch of white power neo-nazis collected together, and presented a proposal to improve transportation infrastructure that was both more environmentally sensible and also offer greater economic independent from oil countries overseas …
… why, you'd likely find some who would admit (at least in private) that they liked it. Especially of the policy advocate, aware that the audience was a bunch of white power neo-nazis, pointed out how much money we spend on petroleum from African nations.
Voila, you have (transportation infrastructure) Progressive White-Power Neo-Nazis. Likely primarily because they like the idea of not giving money to Ay-Rabs, Venezuala and especially Nigeria or Angola.
So you have a particular objective that you identify as progress. And you agree with the need to reform a wide range of other things. You can:
(1) Focus on your highest priority. But to pursue your highest priority, it seems like you don't want to piss off people willing to support this objective, but not willing to support any or all of the other of that wide range of other things. Or,
(2) Build a movement in which those supporting a range of reforms all work together to pursue the whole set as a program.
Only the second approach included taking power as a possible strategy to pursue, since the first approach requires that you refrain from pissing off those who may support your main priority in some way, but already have access to power and don't want to risk any shakeup in how power is distributed in the current establishment.
And the result is easily self-imposed divide-and-conquer. You have a set of people who's reforms focus on things so fundamental to the establishment that they can only be seriously pursued by organizing to try to take power to put them into place. And you have a wide range of issue groups who imagine that their particular reform may be attainable by influencing those in power rather than by taking power …
… and the latter set of people avoid the first set of people like the plague, to avoid pissing off those in power.
And so even if there is a latent potential for a progressive-change coalition that would be able to build a movement and eventually take power, those who imagine that appeal to the existing authority offers a path to success often seek to actively avoid that kind of coalition.
And the actions of self-definition to make it clear to all observers, "oh, we aren't like those radical groups" ... they themselves form the walls of a Virtual Veal Pen.
 
What to Do About It
Unlike real veal pens, those in the virtual Veal Pen are there by choice. Those of us not in the Veal Pen are also there by choice. It is (to choose a more accessible popular culture reference than "Nookie" Thompson) a bit like the red pill and the blue pill in the Matrix, except everyone starts out with both a red pill and a blue pill in their pocket.
~~~~~~~~~~~
Musical Accompaniment: The Long Way Home, Faithless
~~~~~~~~~~~
What each of us does about it is, of course, part of the struggle to build a movement that is able to take sufficient power to force through the moves required to achieve our objectives. And many of us have different priorities, so one of the things we have to do is to not only understand the upsides and downsides of forging the required alliances from the perspective of different priorities. Those with the reducing the severity of the coming climate catastrophe as our first priority will due to that priority have a different perspective from those of us with the dismantling of the United State's bloody International Base Network Empire as a first priority. Those with Equality of Economic Opportunity in opposition to this nation's entrenched Aristocracy of Wealth will have a different perspective again.
To be clear in what I am saying here, we might all agree on all three, but still have different perspectives because of different priorities among the three.
We do have to engage with those presently in the Veal Pen, and find those who are open to seeing how futile a position in the Veal Pen is in terms of actually achieving any broad set of Progressive aims. Sticking with the analogy, at least some of us have to go into the Matrix.
But we also have to build and work outside the Veal Pen. In the Matrix analogy, we also have to build Zion.
And finally, we have to remember that this is not the Matrix. We are not going to win these fights by getting to the core Power That Is, and persuading it to let us survive if we make a sacrifice that allows it to achieve an important objective. We are only going to win these fights by grabbing a sufficient measure of power.
 
Conversation
Well, I've been holding the floor for quite long enough. What do y'all think?