Lost in the turmoil of corruption surrounding Governor Chris Christie is a day which some feel should live in infamy. In mid-January Christie exercised the "pocket veto" on 44 bills passed by the legislature.
Among the bills vetoed was a bill (AB4097) which would have permitted people undergoing the gender confirmation process to amend the gender designation on their birth certificates.
Christie did not comment on most of the vetoed bills, but he did comment on the veto of AB4097.
[The] proposed measures … may result in significant legal uncertainties and create opportunities for fraud, deception and abuse, and should therefore be closely scrutinized and sparingly approved.

--Christie
Because, you know, we transpeople are just out to commit crimes through deceiving people. We're all about being up to no good.
Gov. Christie's veto suggests that with safeguards he would have signed this legislation. I plan to work with my colleagues and the Governor's office to get this legislation done during the next session.

--Assemblywoman Valerie Vainieri Huttle, on of the bill's sponsors
Transsexual people who have undergone the appropriate surgery have been allowed to have new birth certificates issued since 1984. But not all transgender people undergo the surgery that is considered to be "appropriate." Some of us cannot, for reasons of health and/or wealth.
The bill, (A4097) would have applied to people who have undergone "clinically appropriate treatment for the purpose of gender transition, based on contemporary medical standards, or that the person has an intersex condition," according to the legislation.
The Rainbow Times named Christie "Creep of the Week."
It's important to note that not all trans people have had or want to have gender reassignment surgery. This is something a lot of non-trans people do not understand. At all. But such surgery is super-duper expensive and rarely covered by insurance. Not only that, but getting all intimate with a doctor's scalpel is serious stuff with the possible negative effects any surgery carries, including possibly eliminating sexual sensation. Not to mention the fact that some trans folks would still like to have kids, thank you very much, regardless of the physical manifestation of their kid-making parts.

Now, for folks who are not trans, Christie's veto might not seem like a big deal. And in the grand scheme of things, it isn't. This is an issue that impacts a very small number of people and most of the folks in New Jersey have not had their lives changed one bit by Christie's veto.

Of course, one could also make the argument that since this bill, in fact, would directly impact such a small number of people, vetoing it is a pretty shitty thing to do. What this bill would have done is afford an additional shred of decency to the way we, as a society, ultimately treat trans people. This is a population that is discriminated against in so many ways and whose very existence is either completely denied or held up as an example of perversion by the anti LGBT right.

--D'Anne Witkowski, The Rainbow Times
The links above were added by me. Right Wing Watch shares some of the rightwing garbage aimed our way: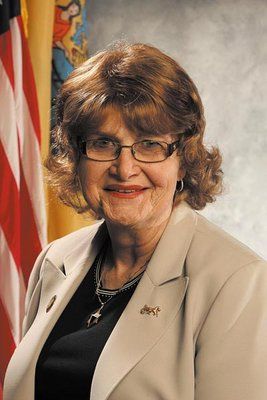 [The veto was] arbitrary, capricious, and designed to harm transgender people who are the most vulnerable among the LGBT New Jerseyans. 

--Barbra Casbar Siperstein, political director for the Gender Rights Advocacy Association of New Jersey
Governor Christie's veto of this legislation was a vindictive move to punish the LGBT community after a year of tremendous progress.

This was a simple bureaucratic change, which would have offered tremendous support to the transgender community, and have zero effect on anyone else.

This malicious use of the veto pen is shameful and beneath the office of governor.

--Troy Stevenson, executive director of Garden State Equality
Stevenson is leaving his position tomorrow to become executive director of Oklahoma's The Equality Network. He will be replaced temporarily by John Mikytuck.
This bill would have provided a simple procedure for birth certificate amendments and would have aligned New Jersey policy with contemporary medical standards. Having access to basic identification documents that match one's gender identity is a civil right.

--Jeanne LoCicero, deputy director of the ACLU
Governor Christie is letting down transgender New Jerseyans and showing their well-being is of no concern to him.

--Chad Griffin, Human Rights Campaign president
Especially vocal in their outrage were the members of the Rutgers transgender club, Trans*missions, which consists of 40 to 50 members who are either transgender or supporters of the transgender community.
With all the scandals going on with Christie, I can't believe he has the audacity to do this. It is a hurtful thing to do that was not done out of necessity.

--Jamie DiNicola, Trans*missions president
It's a stepping stone. It takes the first 'no' to pursue the 'yesses.' At least this issue is out there — just the fact that it's even a topic of conversation.

--Natasha Payano, Trans*missions treasurer