Melissa Harris-Perry interviewed Janet Mock on her February 1 show…and discussed her work as a "foot soldier" in the battle for our equality.
Mock has a new book out, released just today, entitled Redefining Realness.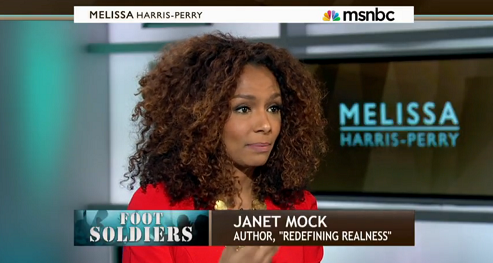 Mock came out in the magazine Marie Claire in May of 2011 when she was an editor for People.com.
I think for me [I wrote a memoir] because not enough of our stories are being told. And I think that bringing words to explain my experiences - and not only explain my personal experiences, but also, like, the political context was really important to me, but I knew that young girls needed a personal story that reflected them. And I think that a lot of women will see - a lot of marginalized women, at least - will see themselves in the experiences that I described in the story.

--Janet Mock
Mock's book site asks people to perform 4 tasks to spread support, not just for her book, but also for transgender people.
1. Buy the book.
2. Donate a copy.
3. Bring Janet to your local school or bookstore.
4. Spread the word.
There is also a six-part series of videos that goes opens the conversation.
On Sex Work:
I perceived the sex trades as a rite of passage, something a trans girl had to do in order to make the money necessary to support herself. I had also learned (from media, our laws and pop culture) that sex work is shameful and degrading.

Sex work is heavily stigmatized, whether one goes into it by choice, coercion or circumstance. Sex workers are often dismissed, causing even the most liberal folk, to dehumanize, devalue and demean women who are engaged in the sex trades. This pervasive dehumanization of women in the sex trades leads many to ignore the silencing, brutality, policing, criminalization and violence sex workers face, even blaming them for being utterly damaged, promiscuous, and unworthy.

So because I learned that sex work is shameful, and I correlated trans womanhood and sex work, I was taught that trans womanhood is shameful. This belief system served as the base of my understanding of self as a trans girl, and I couldn't separate it from my own body image issues, my sense of self, my internalized shame about being trans, brown, poor, young, woman.
The Power of Words:
Some reviews:
Courageous! Told with a spirit of raw honesty that moves beyond confession to redemptive revelation, this book is a life map for transformation—for changing minds.

—bell hooks
Redefining Realness is loving, searing, and true.

—Jennifer Finney Boylan, New York Times bestselling author of She's Not There
Of the book's many strengths, the most notable is its political bite. Mock defies the historically apolitical confines of the transgender memoir…[and] take[s] the uninitiated, non-transgender reader with her.

—Publishers Weekly
Redefining Realness is a classic American autobiography. Like Richard Wright and Maya Angelou, Janet Mock brings us into a world we may not know and with breathtaking insight, courage, and masterful craft makes her story universal.

—Barbara Smith, author of The Truth That Never Hurts