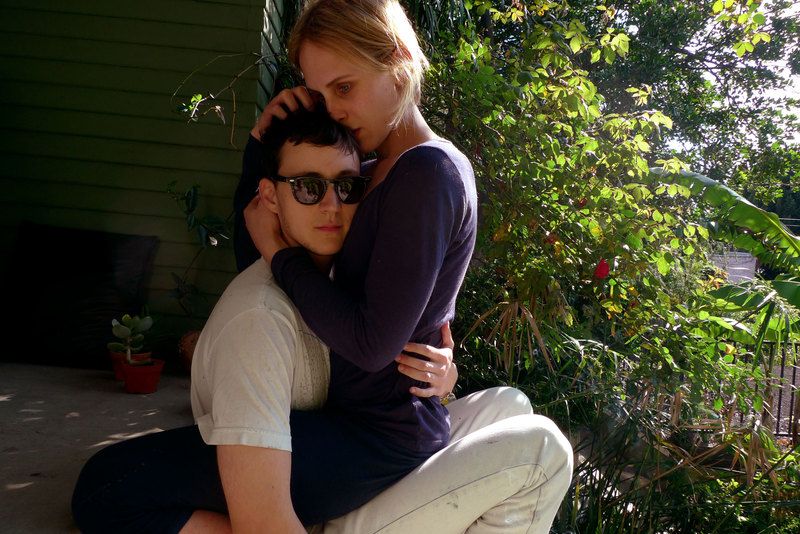 Rhys Ernst and Zackary Drucker are doing their part to bring the transgender influence to pop culture.
Rhys and Zackary met at a bar in the East Village in 2005. They were both aspiring to be artists…or rather, they were artists who were aspiring to be better known. Rhys was a graduate of Hampshire College and was working for MTV. Zackary was a graduate of the School of Visual Arts and was appearing on a reality show called Artstar, created by Jeffrey Deitch which was available on Dish TV's Gallery HD.
Their self-identifications at the time were an impediment to any instant romance. Rhys had never dated a man. Zackary had never dated a woman.
I remember thinking, "if I ever dated a boy, that's the type of boy I'd date."

--Rhys
But over the last five years they have both transitioned…Zackary from male to female and Rhys from female to male.
They have a photo exhibition, Relationship, at the Whitney Biennial in New York. The exhibit consists of 46 chromogenic prints.
Drucker and Ernst also collaborated on the 2012 short film, She Gone Rogue.
Here is an interview done at Outfest 2013, where She Gone Rogue won the first ever Outfest Grand Jury Award for Outstanding Experimental Short:
"Darling" (played by Zackary Drucker) attempts to visit her "Auntie Holly" but instead falls down a rabbit hole, encountering trans-feminine archetypes (legendary performers Holly Woodlawn, Vaginal Davis, and Flawless Sabrina) who are in turn confounding, nebulous, complicated and contradictory. Engaging a world of dream-like magical realism, SHE GONE ROGUE references Maya Deren's Meshes of the Afternoon, utilizing a space where singular selves multiply and expand, offering windows into parallel dimensions, with time and space collapsing into a whirlpool of divergent possibilities. When Drucker finally finds the white rabbit, the process of identity construction completes a full circle, offering more questions than answers.
The film will be shown during the Whitney Biennial showing.
Here is an interview with Drucker at Los Angeles, I'm Yours: An Art Star Is Born: An Interview With Zackary Drucker. There are plenty of photos.
The Kickstarter video for the film is available here.
And then here is the title and credits for the movie:
SGR - titles and text-Vimeo HD from Otherwild on Vimeo.  
Rhys directed Julia Weldon's music video Careful in the Dark:
Julia Weldon - Careful in the Dark from Rhys Ernst on Vimeo.