During basketball season of 2014, Blake raised $2555.55 for East Meckelenburg High School's chosen charity, Mothering Across Continents, for the purpose of building a school in South Sudan. Since the dozen other candidates for homecoming king raised a total of $648.33 between them, Blake became the first transgender homecoming king in North Carolina history.
I honestly feel like this is something I have to do. Nobody should be scared to be themselves, and everybody should have an equal opportunity to have an enjoyable high school experience.
Blake shared that he was mentoring several younger transgender students.
When Blake came out his birth family rejected him. He was placed in a foster home.
Winning the crown came with a price.
That was single-handedly the hardest part of my trans journey. Really hateful things were said on the Internet. It was hard. I saw how narrow-minded the world really is.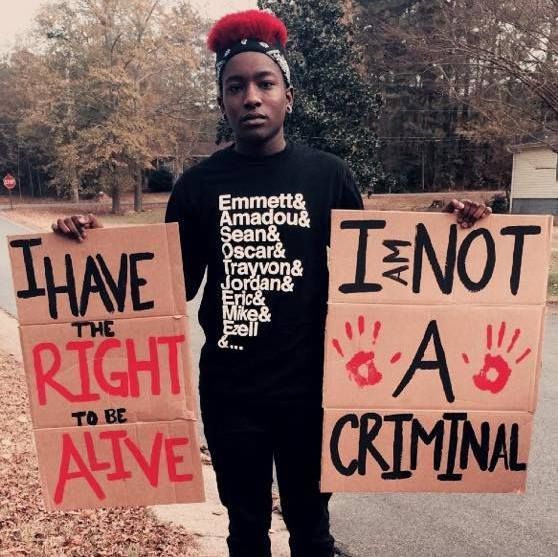 I've had a hard time coming out to my family, I had a hard time coming out to my friends at school, but I did it. I've lost a lot of friends ... [But] I want other trans youth to understand that they're not alone, and that this is a large community. 
Blake remained an activist after high school. A student at INC-Charlotte, he spoke at last year's Transgender Day of Remembrance. He led a march through Charlotte's Uptown with the Charlotte Activist Collective to shut down Independence Square for a rally against police brutality and violence.
There was a documentary that began production last year, entitled BrocKINGton.
Blake Brockington died Monday night...of an apparent suicide.
The rate of suicide for transgender people is nearly 10 times that of cisgender people.
Following the reported death by suicide of Leelah Alcorn as well as three young trans men, 23-year-old Jay Ralko, 24-year-old Andi Woodhouse, and 17-year-old Riley Moscatel, this past December, 2015 has already seen the reported suicides of Taylor Wells, 18, March 15 in Springfield, Ill.; Aubrey Mariko Shine, 22, February 24 in San Francisco; Zander Mahaffey, 15, February 15 in Austell, Ga.; Melonie Rose, 19, February 11 in Laurel, Md.; and Ash Haffner, 16, February 26 in the same town as Blake Brockington — Charlotte, N.C.
Trans Lifeline can be reached at 877-565-8860. For LGBT youth (14 and younger), there is the Trevor Project Lifeline (1-866-488-7386). The National Suicide Prevention Lifeline is at 1-800-273-8255.