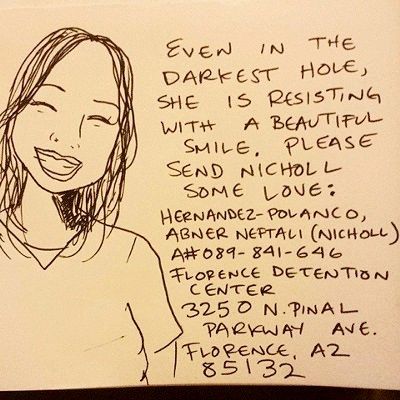 Nicoll Hernández-Polanco tried to enter this country twice when she was 17. The Guatemalan native was caught and deported.
In October of 2014, Nicoll again crossed the Sonora desert to the Arizona border. This time she turned herself in and asked for asylum. Guatemala is one of the most dangerous countries in the Western Hemisphere for transgender women, battling for second with Honduras behind Brazil.
Having experienced about a decade of sexual and physical abuse in Guatemala and then Mexico, ICE threw the new fish into the shark tank that is their Florence, AZ all-male detention center. Since she has been there she has been assaulted by another detainee, forced to shower with men, verbally abused by both the guards and the other inmates, and placed in solitary confinement for standing up for herself.
Mariposas Sin Fronteras (Butterflies without borders), the Transgender Law Center, and other LGBT and immigration rights advocates have been fighting for her release...for an end to the torture...but ICE refuses to budge. In their eyes, her deportation is a priority because of her two previous deportations.
The most tragic aspect of this is, asylum law is supposed to be a way to expand protection to vulnerable individuals who would be otherwise persecuted in their home countries because of who they are, and that is the way that it is supposed to function. As we have dug into this case, and became more familiar with the treatment of LGBT individuals in detention...this is a group of people who are fleeing discrimination and violence in their home countries, and they come to the U.S. seeking a safe haven, and instead of extending protection, we cart them off and put them in detention facilities where they are re-exposed to violence and discrimination, and that is tragic.

--Heather Hamel, a Phoenix-based corporate law attorney, who, alongside colleague Vidula Patki, has taken on Hernández-Polanco's case pro-bono
In a statement, ICE said it is committed to "providing for the safety and welfare" of all detainees, including LGBT, and that it takes allegations of abuse very seriously.
ICE, being a Federal agency, is theoretically supposed to consider the gender identity of all detained immigrants, as well as potential threats against them, when making housing decisions.
Nicoll is an example of how they have failed to uphold those policies. Obviously, Nicoll's gender identity is female and obviously her safety is placed at risk every single day that she remains in an all-male detention, and those two factors should favor placing her in an all-female facility and they have not done that.

--Hamel
An investigation by the television network Fusion, operated jointly by ABC and Univision, found that ICE has about 75 transgender people detained on any given day, about 90% of them transgender women. A GAO study found that 1 in 500 detainees is transgender and that we are one out of every five victims of sexual assault while in detention.
This is something that is typical, Nicoll's case is, unfortunately, not unique at all. ICE has shown over and over again that they are totally incapable of detaining trans women with even the least levels of dignity and safety. Our conclusion is that they have no business detaining them.

--Olga Tomchin, Transgender Law Center
Familia: Trans Queer Liberation Movement, based in Los Angeles has been attempting to pressure President Obama to expand deferred action to LGBT people and classify them as highly vulnerable, as is done with pregnant women and children. Especially Familia would like to see the detention of those seeking asylum to end altogether.
We can't forget that there were seven million folks left out, we can't forget that we will have more detention centers open, that people are going to be more persecuted and detained because those bed quotas need to be filled every night...and that includes LGBT immigrants who are criminalized when we are walking down the street. We will continue highlight stories like Nicoll, Marichuy, Karolina...and all women who were once in detention and now are organizing with us. Nicoll is just one of the cases that exists all over the country. (Detention centers) are not able to keep our community safe, so there is no reason they should be detaining our folks.

--Jorge Guitiérrez, national coordinator for Familia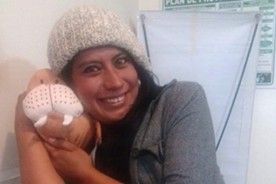 Hernández-Polanco was assigned the sex male at birth, but identified as a woman since her youth, and for years she has been transitioning to her preferred gender—something completely demonized by the rather conservative society of Guatemala. The discrimination is typical in many countries, but Guatemala has a tremendous reputation for being a very violent place for LGBT people. The hate crimes come from family members, neighbors and it's common for police officers to raid areas of the city with a big LGBT population and shoot people in broad daylight, according to Trans Reinas de la Noche, (Trans Queens of the Night), an activist group from Guatemala City. Since 2004, the transgender and gender nonconforming advocacy group has kept track of the statistics, since the local police force or government don't care.
Nicoll's abuse began at home. She was repeatedly sexually assaulted by her step-father, which accelerated after her mother died. At school she was bullied by the other students as well as by faculty and staff. She dropped out of school in third grade. She ran away. She has been running ever since.
At 17 she found her way to Mexico, where she was kidnapped and raped continuously.
So here she finally has made it to America and has spent five months in detention facing threats and acts of sexual violence.
It is particularly frustrating, the unwillingness of ICE to cooperate with us as Nicoll's counsel. We have approached ICE, every way you can imagine, to see if there is anything that can be done, if she can't be released for now, then at least to improve her conditions. We have been stonewalled the entire way. (We) are not immigration attorneys, so I can't speak to how common this practice is, but from the other immigration attorneys I have spoken to, this appears to be a common technique, to stonewall and ignore counsel when they raise legitimate concerns.

--Patki
Nicoll has a bond hearing scheduled for April 22. Hamel and Patki say her asylum hearing may happen the same day.
Mariposas Sin Fronteras is attempting to raise $10000 in bond money. They have raised nearly $2000 so far.
I know I will get out of here. And when I do I'm going to help a lot of people.

--Nicholl, without a hint of resentment
Although she barely knows how to read or write, she wants to have a book written about her life.