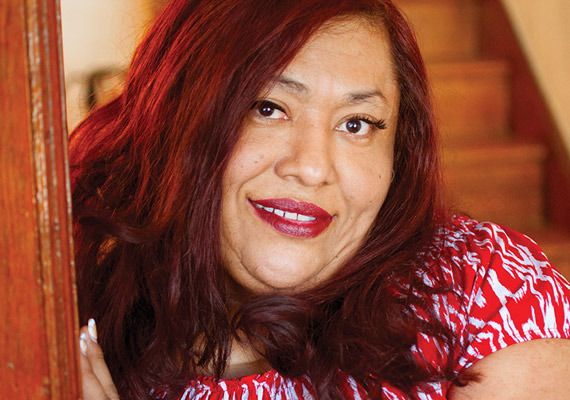 I first wrote about Ruby Corado on June 8, 2013...well, after a shorter mention of her in August of 2012 after the opening of her Casa Ruby LGBT Center in DC.
Ruby is a Salvadoran immigrant and a transwoman.
The Washington Post interviewed her for Mother's Day.
She has been in the news again lately because of the opening of her new LGBT youth homeless shelter.
Here's a piece about Casa Ruby:
Voice of America did a segment about the new homeless shelter, which is also to be called Casa Ruby.
Giselle Hartzog is one of the first residents. She migrated to DC from Mississippi. She tried staying in an all-women homeless shelter, but was ejected.
Once they found out I was trans, they were very discriminating against me and wouldn't let me come back

--Giselle
Giselle ran away from home four years ago. For awhile she tried to sleep at the train station...or she went home with someone in order to try to make some money to survive.
It was a transition from me being who I wanted to be and my mother not so much seeing my point of view.

--Giselle
She eventually got arrested...and an officer suggested Casa Ruby.
It's a house where people can be themselves.

--Giselle
Young residents can live here up to 18 months -- and are mentored throughout their stay.

--Larry Villegas, who directs Casa Ruby's transitional living program
People are going to be doing chores for example. There should be 35 hours per week of employment or community work or education or job training.

And we are going to help the participants to get to that place. And we want to make it in a way that's always from 'what did you do today to get better?' and celebrate that accomplishment.

--Villegas
Homeless advocates estimate that 20-40% of homeless youth are LGBT.
I'm in a safe environment, food in my stomach, a roof over my head. You know so I really can't ask for too much.

--Giselle
Casa Ruby will have 18 beds and a closet full of donated clothes and shoes for newcomers who arrive with nothing.
My intentions from the beginning was to offer LGBT homeless youth the same things and the same commodities that are awarded to many people in our city.

--Ruby
And it's not just the things that will help residents, but the services -- like help signing up for health care and substance abuse treatment.
In many states, youths cannot gain access to these services simply because of their age. So, there's lots of different barriers that need to be addressed to really solve the problems confronting them.

--Maria Foscarinis, National Law Center on Homelessness and Poverty
PBS's Transgender in America series also visited Casa Ruby.
I wish I had more to give them. I wish I had 20 houses to put everyone in. And I wish I could build my own little world, my own little neighborhood, where it would be OK to be you.

And as I work on that, I do know that for those that make it here, I can love them, and in the process, I can make it easier for them.

--Ruby Corado