Do Something.org is a global organization advocating that young people get involved with social change.
our 3.8 million members tackle campaigns that impact every cause, from poverty to violence to the environment to literally everything else. Any cause, anytime, anywhere. *mic drop
Since that was written, the number of members has risen to 3,975,471. More than 2 million of the teens had signed up to receive text messages one or two times a month suggesting ways to do social good. Those texts came from someone named Alysha.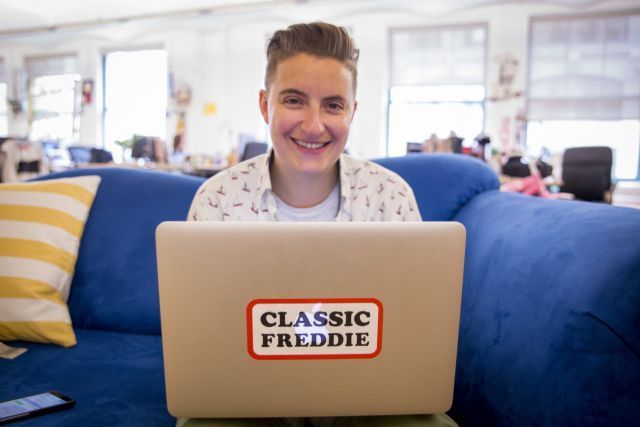 [Yesterday] they got a different kind of text from Alysha. Alysha, the text said, was now going by the name Freddie and was coming out as transgender. Instantly. To two million people. Via a text message. 

--Ina Fried, re/code
I've texted for DoSomething for 3yrs as Alysha, but I've been struggling. Im Trans. Im Freddie! Kind of a big deal.

--Freddie
Teens were encouraged to reply "A" to ask questions, reply "B" to offer support, or "C" to just move on.
In some ways it was a departure for DoSomething. In another way, the New York-based nonprofit was doing what it has always done: Educating teens to be more sensitive to the world around them — just in a more immediate and personal way.
It does feel like a point in time where people are talking about transgender stuff.

I'm really happy, and scared shitless.

--Freddie Bologno
Bologno is 27. Freddie came out as lesbian around 7 years ago...but has more recently been trying to come to terms with not fitting in to the gender binary. Identigying as outside of binary gender categories Freddie prefers people to use the plural pronouns "they" or "them," as opposed to "he" or "she."
Bologno's co-workers at DoSomething were accepting of Freddie, but the question remained of what to do with "Alysha" — the voice behind the advice texts. Bologno and colleagues at DoSomething considered just saying that Alysha had gone and Freddie was taking her place, but that didn't feel right.

"Part of being a real person is being authentic," Bologno said. In the end, DoSomething opted to seize upon it as a teachable moment.
Bologno said that while transgender people and issues are being put in the spotlight, much of the attention is on celebrities like Jenner, or "Orange Is the New Black" star Laverne Cox. While they are valuable role models, Bologno said that their experience as wealthy celebrities isn't the norm for transgender people. The reality for the average transgender person includes challenges with housing, jobs and a continued risk of violence, especially for transgender women of color. By coming out publicly to so many, Bologno sees an opportunity to provide a different kind of example from that offered by other transgender people in the media.
Besides social campaigns DoSomething also operates Crisis Text Line, to help millennials in crisis, which receives more than 20K messages per day.
Bologno said one of the big opportunities is the fact that Thursday's text is, for many teens, their first introduction to a peer who is transgender. At the same time, given the sheer reach, Bologno's text is also reaching a number of people who themselves are working through their gender identities.
Those are my favorite ones that I have been seeing. It's so important for trans people to know there are other trans people out there — 'Hey, this person I have been texting with for three years is just like me.'

Coming out to someone face-to-face means you actually see what their first reaction is. They don't have that five seconds to process. I kind of like that — not actually having to see that facial expression.

--Freddie
I'm trans too. Thank you for coming out. I'm tired of my trans sisters being slaughtered.

--received text
Beyond the text, DoSomething arranged a social campaign to accompany Bologno's coming out, encouraging supporters to post a song dedication on Twitter with the "Ready4Freddie" hashtag. By mid-morning, Twitter was overflowing with dozens of positive responses, including a message from the band Tegan and Sara.