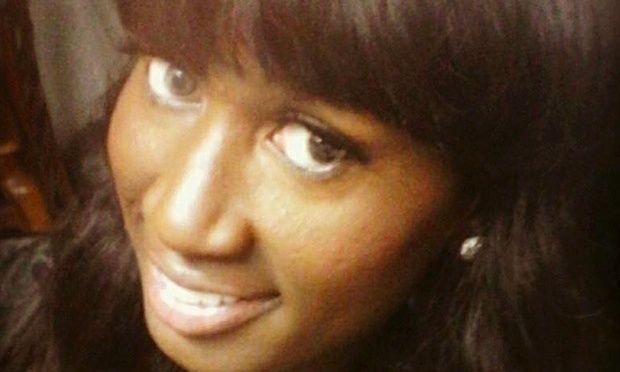 Several dozen folks gathered last evening at the University Area Community Center in Tampa, including the friends and family of transgender woman India Clarke, whose body had been found Tuesday morning at playground near the center, a victim of blunt force trauma.
A growing shrine at the site near where Clarke's body was found included a stuffed bear, flowers and balloons and, because India would have loved it, two selfies.
So he has a picture in his phone and I pray that they find his phone so that I can get a copy of that picture, cause he took his last picture of me and him together Sunday leaving my house.'

--Thelma Clarke, India's mother
It is somewhat understandable that Mrs. Clarke has not yet adapted to using female pronouns for her child. She'd been using male pronouns for most of India's life. But the Hillsborough County sheriff's department and the local media have no such excuse.
Deputies said they received a 911 call just before the center opened at 9 a.m. Tuesday about a woman's body near the basketball courts. Further investigation determined that the victim was a man dressed as a woman, the sheriff's office said in its initial press release.

The sheriff's office identified the victim as Samuel Elija Clarke, 25.
No, this is not a man in a dress. Say it with me, this is a transgender woman.
Among the many factors will be the lifestyle and history of the victim to see if either played a role in the death. Regardless of gender, we are looking at this as a human being who is dead, and we intend to investigate to find out who killed this person.

--Sheriff's spokesman Larry McKinnon
We are not going to categorize him as a transgender. We can just tell you he had women's clothing on at the time. What his lifestyle was prior to that we don't know – whether he was a cross-dresser, we don't know.
--McKinnon
Suzette Clarke remembers her cousin as a loving, confident and happy person.

About four years ago, her cousin started dressing as a woman and identifying as a transgender woman named India Clarke, she said.
Four years. So...not just a one-off thing. A long term change of life.
Clarke had been going to cosmetology school in Tampa.
Charles Thomas helped organize the candlelight vigil for India Clarke on Wednesday night near the community center where her body was found and created a GoFundMe account to help her family with funeral expenses. He said he organized the vigil in part to let India Clarke's family know their child "wasn't by herself. She was loved."
Mimi Redd said she and India Clarke had been friends for 15 or 20 years. India, she said, "was loud. Loved makeup and doing her hair. You know, just partying, enjoying life.''
India Clarke had a previous arrest for prostitution. Friends said she had trouble finding a regular job because of discrimination against the transgendered.
Police and media did not need to share that information.
When you have the courage to be who you are, you know, it's hard to find jobs. They put stigmas on you so you find other alternatives to survive.

--Charles Thomas
It makes it much harder to find employment when the media is referring to transgender woman as "men in dresses."
Police and media misgendering transgender homicide victims has been particularly common in the South, where news outlets this year have noted a victim's past records for minor criminal offenses without linking them to the cause of death.

--Dominic Holden, BuzzFeed
India is the tenth transgender woman killed in the US so far this year. Nine of them have been women of color.
Raven Ovah:
We appreciate that local law enforcement has reached out to community … but it's critical that they reach out using the actual name and gender identity of the victim.

Otherwise there is the risk of a case growing cold, which is something we have seen all too frequently with trans women's homicides, because people are being improperly named and gendered.

--Chai Jindasurat, National Coalition of Anti-Violence Projects
Trans women are 80% of all homicides committed against LGBT and HIV+ people.
According to the NCAVP, this year already appears to have been deadlier than last year – which reached a historical high – something the group believes could be due to better reporting and increased visibility of LGBTQ people.