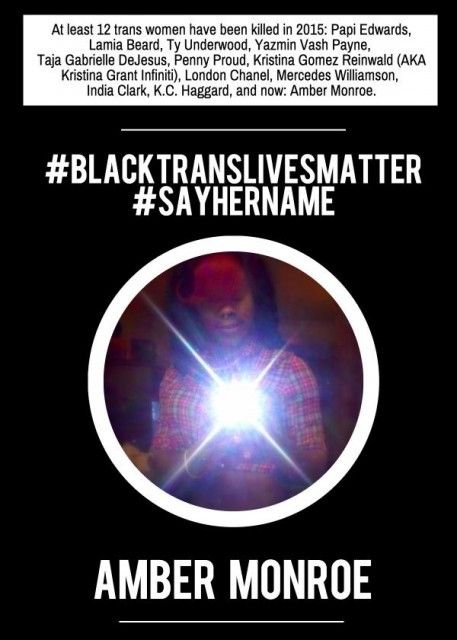 Amber Monroe...was exiting a vehicle near the intersection of 6 Mile and Woodward in Detroit around 5 am Saturday morning when she was fatally shot. Police say the shot came from inside the car, a green Audi.
The area is known as Palmer Park...and is known to be the gathering place of Detroit's transgender community. Four fatal incidents involving transgender women occurred in Palmer Park in 2014.
As usual the Wayne County medical examiner's office announced that a "male was shot" at the location. Then the ME's office identified the victim by what the Guardian calls "her biological name" (her biological name would be homo sapiens)...but i better known in our community as either her birth name or her "dead name."
The decision to misgender Monroe as male outraged trans advocates who knew the 20-year-old, saying it's disrespectful, particularly in death.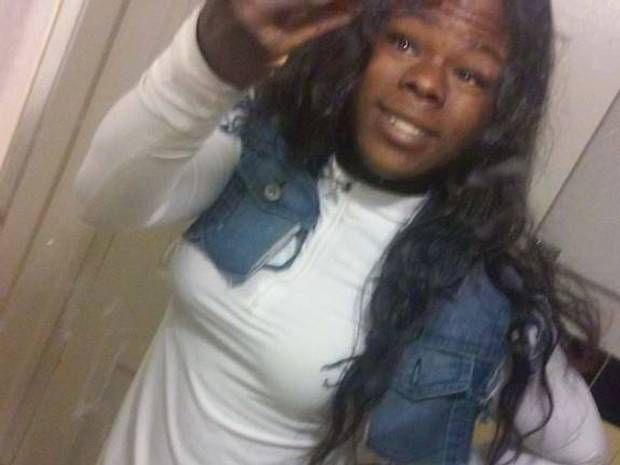 If somebody is looking for us, and we do have supportive families, we're not going to get found in a timely manner because they misgender. 

[Without accurate record-keeping], how can we actually keep track of the amount of transgender people who are murdered?

--Julisa Abad, transgender advocate
Monroe is thought to be the twelfth transgender woman of color murdered so far this year.
The issue of locating friends and family, or simply finding answers about a loved one, was a particular issue in 2011, when a 19-year-old trans woman of color, Shelly "Treasure" Hilliard, was murdered on the city's east side. Her life was documented in a recent film, Treasure.

At the time of Hilliard's disappearance, weeks passed without anyone receiving answers of Hilliard's whereabouts, said Bré Campbell, a transgender Detroit resident and National LGBTQ Task Force fellow.
Hilliard had been working for the police as an informant.
I remember hearing about her being missing three weeks before [she was found dead] and not really being given an answer for the community, for her mother, until three weeks later. I think that's something the community needs to understand about misgendering transgender people.

--Bré Campbell, NGLTF
Abad told the Guardian that Monroe had been shot twice previously in Palmer Park but had not reported the incidents to authorities.
Amber was very outgoing … always had a smile. Her experience highlighted common issues transgender women face in the city. She had to be out there; she did go to school, so I know she wanted to better herself, but unfortunately, especially being so young, she didn't have many options, either.

--Abad
According to the task force, one in four trans individuals have experienced violence; similarly, one in four trans women are more likely to live in extreme poverty, with an income of less than $10,000 annually, said Stacey Long Simmons, director of public policy and government affairs with the group.

Trans individuals in Detroit particularly also face a dire predicament when it comes to housing.

Homeless shelters in the city require them to identify by the gender they were assigned at birth, said Campbell. The decision is a double-edged sword: they could sleep indoors among a group who likely doesn't understand their situation. The other option is to live without shelter, Campbell said, "which I think is very demeaning and dehumanizing".
Many trans people sleep in the Park during the daytime.
Palmer Park has historically been a LGBT-friendly neighborhood. The area provides trans individuals with a community, as well as access to resources that they have been pushed away from like healthcare [and] housing.

--Cherno Biko, trans rights activist
The area in general is bad. They target us, you get robbed, you obviously do what you do with a date, you get pushed out of cars.

When you call the police and try to advocate for the girls who are out there … they try to de-prioritize the situation and bring up the fact they were prostituting. Whether they were prostituting or selling jelly beans, nobody deserves to be killed.

--Abad
There's a misconception that Palmer Park exists solely as a place where people visit to "participate in, or to access sex work, and that's not necessarily true.

It's a community park. A lot of the trans women who are homeless, and even LGBT youth who are homeless hang out at Palmer Park during the day. It's a very well-known area to the community itself.

--Campbell
Trans women in Detroit regularly face street harassment not just by passers by, but also police departments who think these women are in some way committing fraud - that they're trying to pull one over on people in terms of who they are.
There's a lot of mistrust on the side of law enforcement.
--Yvonne Siferd, Equality Michigan
She loved to dance. She always came to groups really excited to learn and … she really wanted to educate the community on the issues that were facing the trans community.

--Campbell
These are the things that devastate us, it's horrible. There are so many of us trans people organizing and mobilizing for justice for our fallen sister. It's hard. Our community is small and marginalized. These are things that devastate us. Our lives are treated as disposable.

--Ahya Simone, friend of Amber, who called the death tragic, but not a shock
For black trans women, there continues to be an erasure of our identity that perpetuates the idea that our lives don't matter, that our lives aren't worth saving. That's what's so sad about this, especially for the community that Amber came from. My heart breaks every time I hear news of this but I haven't had time to grieve because there's so much work to do.

--Biko
Detroit police Officer Danielle Woods said she has been working since 2013 to be the bridge between the police department and LGBT community to build a relationship. Police plan to meet with the LGBT community at 6 p.m. Wednesday in Palmer Park.

She said police "haven't always been so popular" among the LGBT community, adding that "it's time, you know, to have these conversations and build these relationships because it … betters our community."
There's prostitution and a lot of drugs are sold in that area. For whatever reason, 6 Mile and Monroe is where trans women congregate. At least there we're united. We look out for each other as best as we can.

--Abad
Transgender rights activist and actor Laverne Cox posted a photo of Amber on her instagram account along with a heart emoticon and an image of an angel. She added #SayHerName, a hashtag used by activists to highlight the deaths of women of colour.
Our hearts are heavy with grief that we have lost another vibrant member of our community too soon. Our thoughts and prayers go out to all of Amber's family and friends who she clearly loved deeply.
Her life was just beginning. Let's come together to celebrate her life, and work for real change so that our transgender sisters can be free from persecution. I know we can do better. We have to do better.

--Equality Michigan
It was thought that Amber was attending Wayne State University but the school denies this.
These crimes are the result of a society where people are still more obsessed with whether a transgender person has had surgery than that they are a human being.
After the first eight weeks, we hit the ground running and we launched all these campaigns (aimed at bringing awareness to the violence that twoc face), and that things looked hopeful. Then something happened this summer with India Clarke. In the last two weeks, we've had three (murders)… we have to do something to stop this because it's only going to get worse.

--Biko
The names of our sisters shouldn't only make headlines when we walk a red carpet or lay in a casket.

--Janet Mock
It's less about individual girls and more about culture and society as this has happened 12 times this year alone. Large parts of society still don't seem to care about trans women of color or even view us as human beings.

We make more sense dead than alive. This is the culture that we are dealing with, not just in Detroit or the mid-west, but in all of America.

--Biko