The title of this diary is also the title of a new campaign in New York City informing NYC's residents and visitors that they may use the restroom consistent with their identity.
With people comparing us to dogs,and saying we need to use whatever bushes and trees we can find for privacy, the campaign is very welcome.
The new campaign, which officials debuted Monday, includes real life transgender New Yorkers and tells people to "look past pink and blue" and to "use the restroom consistent with who you are."
Advertisements will appear in subway cars, bus shelters, phone booths and community newspapers, in both English and Spanish.
While other cities and states are legislating intolerance and taking away individuals' right to use bathrooms consistent with their gender identity, we are proudly standing with our transgender and gender non-conforming New Yorkers.

--Mayor Bill de Blasio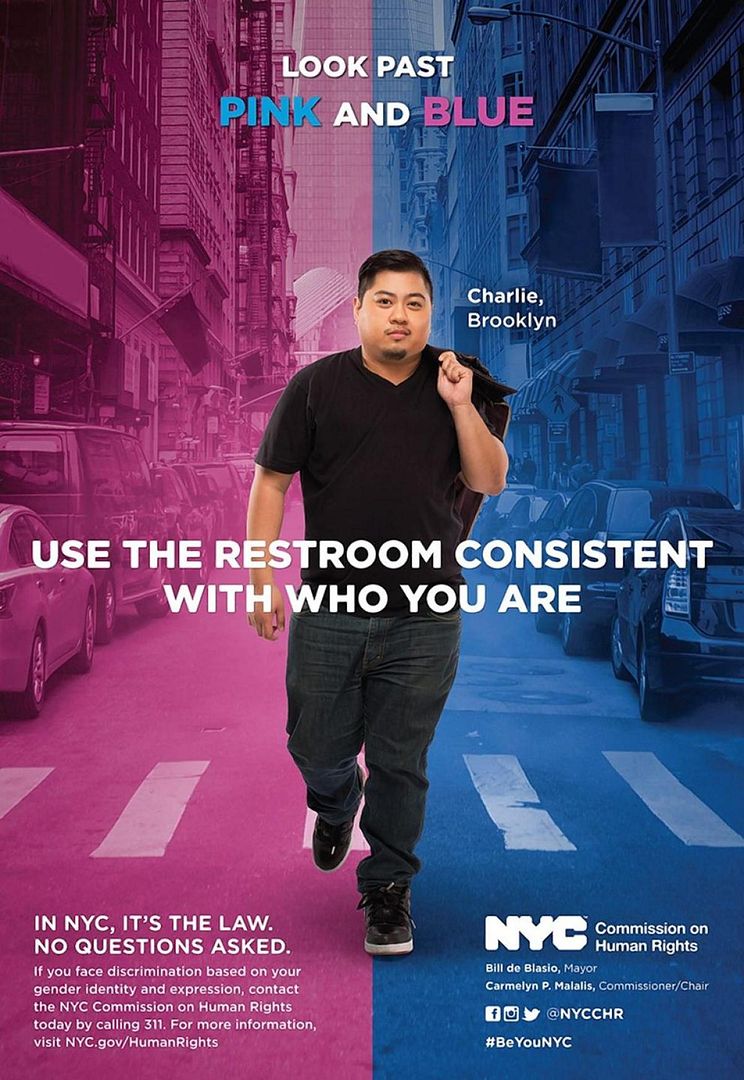 Featured in the ads will be Alisha King, a full-time mom from the Bronx, Charlie Solidum, a healthcare professional from Brooklyn, Ky Platt, a technical theater professional from the Bronx, and Ariel Murtagh, a high school student and activist.
All participated because they want to draw attention to the issue that has come in the forefront after several states passed laws to force people into the bathroom that corresponds with their birth gender.
Bathroom discrimination is a regular occurrence for the transgender community. So much so that many of us avoid even using public restrooms to begin with. I sincerely hope these ads help people understand that transgender people are people just like you. We just want to use the restroom safely and be treated with respect.

--Alisha King