Alyssa Eve is a 23-year-old transgender woman who transitioned six years ago. One might think people had gotten over that by now.
But around 11:30 pm Friday Alyssa heard banging on the windows of her apartment.
She quickly called her mother, let out her Labrador retriever and went to investigate.
The first thing I saw was, 'Kill yourself' on my door.

--Alyssa Eve
Then Eve saw hate speech had been painted all across her white, Mercury Sable; words like "pedophile" and "tranny."
Linn County Sheriff Brian Gardner said his deputies responded to the vandalism. Unfortunately, the vandals left behind few clues as to their identities.
Other than the photographs (of the damage), we don't have any other evidence, so it's hard for us to follow up on this.

--Gardner
Gardner said the comments spray painted on Eve's car are at least derogatory and could rise to the level of a hate crime.
Ya think??!?
We'd need to find a suspect first to see what his or her intentions were. A comment that's been sprayed across the vehicle is concerning … one in particular could imply it's a hate crime. Right now, unfortunately, although it's an active case, there's really no follow up we can do at this time unless someone comes forward with new clues for us.

--Gardner
This has been my home for 23 years. Nothing like this has ever happened to me. I was just devastated and started crying. I had no idea anyone in this town hated me so much.

--Alyssa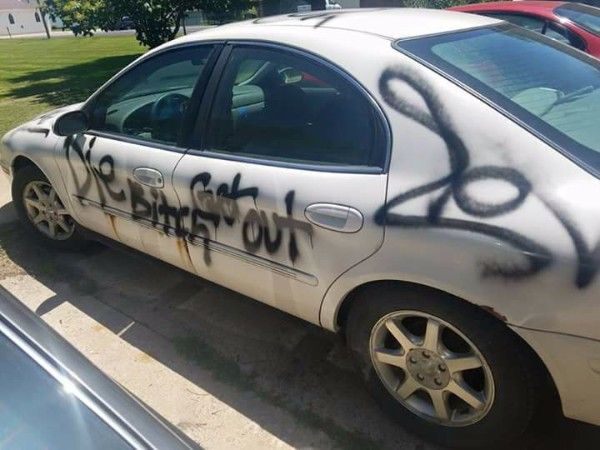 Alyssa and some friends have spray painted the car pink.
One of Eve's friends setup a Go Fund Me page online. It was originally created to raise money for the repaint. But, support has been so great for Eve, the $3,500 goal was reached in a matter of hours.
Now the thinking is to buy Alyssa a new car and use the old one for Pride Parades.
Here's what Alyssa's friend shared on Go Fund Me:
Alyssa is one of the gentlest people I know. She is kind to every one, she loves animals and she's a Trans. Last Friday, her car was vandalized by a bunch of thugs who spray painted her car with hateful words like "Go Kill Urself", "Die Bitch", "Whore", and "Pedophile". She is none of these things. She is supportive of everyone and helps those who are in need. This was a hate crime and nothing more and she doesn't deserve it. Unfortunately, Alyssa cannot afford to have this trash removed and her insurance only covers liability. She was able to spray paint her car pink, but it's still in rough shape. After discussing the use of donations with the donors, we have decided to raise enough money to buy a new car for her and the one she has now will be used in pride parades to show we will NOT be silenced or defeated! She has already forgiven these hateful people but I know it hurts her to see the damage each day. Spread the love!