A Georgia judge who denied two transgender men name changes last year has been overruled by the Georgia Court of Appeals.
Columbia County Superior Court Judge J. David Roper abused his discretion when he denied the name change petitions, the Georgia Court of Appeals decision said. The appeals court sent the two cases back to Roper and directed him to enter an order changing the names.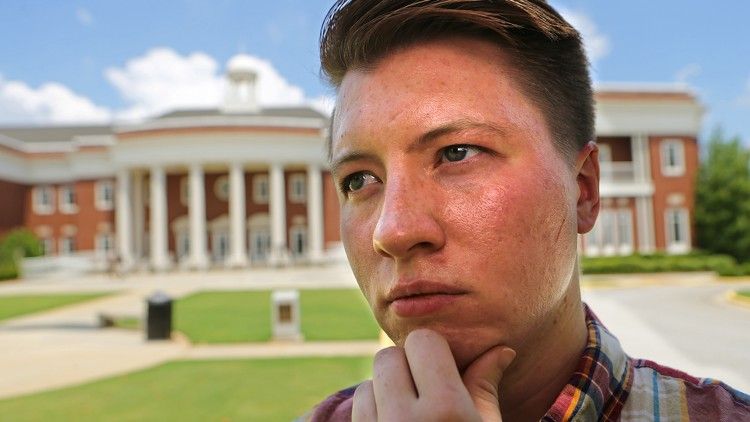 Rowan Elijah Feldhaus (left) and Andrew Norman Baumert had been denied name changes by Judge Roper because, according to Roper, the name changes "could confuse or mislead the general public."
In both cases Roper said he would allow a transgender person to choose a gender-neutral name. But he said allowing a transgender man to choose a male name would "confuse or mislead the general public."
Lambda Legal filed appeals on behalf of the two men.
The appeals court said it has affirmed the denial of a name change petition only when there is evidence that the petitioner has an "improper motive," including "intentionally assuming another person's name for the purpose of embarrassing that person or avoiding the petitioner's own criminal past."
This decision solidifies an important right for the transgender community and obliterates the notion that living in conformity with their gender identity is somehow fraudulent or otherwise a concern for the government.

It's supported by sound reasoning that will help not only our clients but will help people throughout the state and likely beyond. It rejects the idea that a transgender person seeking to live his or her life authentically is somehow harming other people or committing a fraud.

--Beth Littrell, Lambda Legal
It's amazing. It's an emotional day.

--Baumert
Baumert, 21, is a Georgia State University student seeking a master's degree in chemistry.
I was sad, upset, angry, when the judge turned me down. It lingered for a few days, but then I decided to become an activist about it.

--Baumert
I'm beyond happy this is finally done, that there's precedent over this, regardless of whether you're trans or not.

--Feldhaus
Feldhaus, 25, is a sociology major at Augusta University.
We weren't trying to defraud anybody. We were being our true selves.

--Feldhaus
There was no evidence before the trial court to authorize a conclusion that either of them were acting with any improper motive against any specific person. For this reason, Judge Roper abused his discretion when denying the men's requests.

--Appeals Court Judge Elizabeth Branch