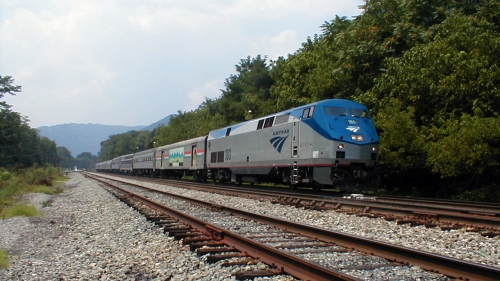 This last week, there was the surprising start to a headline in the Washington Post that began, "GOP House and White House agree on something" ... and that something was: Amtrak funding (and pets on a train).
From NPR:

The Passenger Rail Reform and Investment Act passed on a vote of 316-101 (132 Republicans joined 184 Democrats in voting for the bill; 101 Republicans voted against). It keeps spending for Amtrak at nearly current levels — about $1.4 billion a year — for the next four years, and includes other reforms aimed at improving the railroad's fiscal performance.
... so that is a majority of the Republican majority voting for a bill that both Heritage Action and Club for Growth were scoring, looking for a "No" vote to gain their approval, and which the White House gave qualified approval to (though perhaps it helped some of those Republicans that they can point to parts of the bill that the White House did not approve of). And so the Northeast Corridor trains and long haul trains, alongside most of the state approved corridor services under 750 miles in length, can continue running.
But this was not an entirely "good news" week, since we also heard that Indiana DOT scuttles Amtrak Hoosier State. The Hoosier State is the "companion" train to the three-times-a-week Cardinal, and together the two provide for a daily connection from Indianapolis in the early hours of the morning, scheduled to arrive in Chicago in mid-morning. The Indiana DOT has declared its refusal to continue the service unless it gets to put the service together on its own terms, only using Amtrak for the elements of the service where Amtrak gets a better price than a private operator. And so customers of the Hoosier State service will be getting a special "April Fool's" gift in the form of a drop down from daily to three times a week rail access to Chicago.
More about the qualified good news and unqualified bad news, below the fold.
 
Good News ... but not Great News ... on Amtrak Funding
Now, a technical point about the Amtrak funding authorization is that is that this is not, actually, "funding Amtrak", because this is just the House vote, and because this is an authorization, not an appropriation. The authorization still must get through the Senate, and the authorization is still an upper limit on how much will be appropriated, rather than a formal guarantee of funding.
However, for quite some time now, the Senate has been friendlier ground for Amtrak than the House, with Amtrak appropriations in the Senate regularly coming in higher than Amtrak appropriations in the House, to be settled at an intermediate value in conference. This advantage is structural. The Senate gives greater weight to lower than average population Farm states, many of whom have a number of rural communities where Amtrak provides the primary intercity transport alternative to driving. It also gives greater weight to the states served by the Northeast Corridor, whose economies would face substantial economic impacts if intercity passenger train service along the NEC was to be substantially curtailed.
While this authorization is substantially below previous authorizations, it is essentially in line with recent levels of federal appropriation, so it seems quite likely that the levels of funding authorized will be translated in a continuation of the status quo in terms of appropriation.
And that is the "qualified" on the "qualified Good News" ... because what is actually needed over the longer term is an increase in the level of funding. The NEC has never received the funding for a return of the entire corridor to a state of good repair that was originally promised when Amtrak was first formed. While the NEC operations in combination generate an operating surplus, Amtrak operations on the NEC could generate a substantially larger one if the unfulfilled promise of over four decades ago was finally fulfilled.
And as documented in previous Sunday Train essays on the Congressionally-mandated reviews of the efficiency of the nation's long-haul Amtrak corridors, the worst performing long-haul corridors in terms of subsidy per passenger mile are the three-times-per-week services, which could operate with substantially lower subsidies per passenger miles if they were upgraded to daily service. However, that would be on the basis of increasing the passengers carried per service while increasing the number of services, which would require an increase in total operating subsidy.
In other words, the rate of subsidy would go down dramatically, because the passenger revenue would rise much faster than the total operating subsidy would increase. And while Congress demanded that Amtrak find ways to substantially reduce the rate of subsidy ... it did not make any binding commitment to fund any improvements that might be required to accomplish that task.
And that is the corridor where there is an operating surplus, and where Amtrak owns the corridor. There's even bigger challenges on the Long Haul corridors.
 
The Fundamental Challenge Facing Long Haul Trains
The fundamental challenge with the long-haul Amtrak services is that they are operating on freight corridors that in the three decades after WWII were specialized to the task of hauling heavy, low value per ton, bulk commodity cargoes on an "As Soon As Possible" basis. That was why so many of the railroads were eager to unload the passenger service requirement onto Amtrak when Amtrak was formed, and willingly agreed to the requirement that they give Amtrak access to their networks in order for Amtrak to run those passenger services.
But of course, that was before broad de-regulation of the rail industry, and today, the behavior of two of the four main "Class I" US railroads in particular (that is, Union Pacific and CSX) seems to suggest that they would like to sabotage the passenger services that they once were quite happy to hand over to Amtrak. In December, as briefly described in the front page story of the National Association of Rail Passengers January newsletter, the Supreme Court heard arguments in a case between the association of large freight railways and the US Department of Transportation on whether Amtrak is legally entitled to set standards and metrics to determine whether or not freight railways that are signatory to an agreement handing off passenger service obligations to Amtrak are in fact meeting their legal obligation to provide priority to Amtrak passenger trains.
This is in front of the Supreme Court because a system that Amtrak had in place to measure performance of freight railways in meeting their service obligation was struck down by a lower court, and following that decision (and as predicted by Amtrak and by passenger service advocates), on time performance of Amtrak trains plummeted.
Indeed, the Capital Ltd, which I took from Cleveland to DC to attend the seminar covered in the Sunday Train three weeks ago, was an hour and a half late getting into Cleveland. It was terrible weather, but on the other hand that was a pretty normal delay for the operation over the busy corridor between Chicago and Pittsburgh. Then, as if by magic, while I slept in my roomette bunk bed when we passed east of Pittsburgh, and moved onto the old B&O corridor owned by CSX, which is not yet upgraded for double-stack freight traffic and so has lighter freight traffic at present ... the train caught up an hour and only came into DC half an hour late.
And at the same time, after decades of downsizing capacity to focus on their core markets of bulk commodity transport, the combination of the inter-modal revolution and the explosion (sometimes literally) of oil-by-rail traffic has meant that the main freight railways in the US are now capacity constrained.
In the winter of 2013/14, the on time performance of the Empire Builder plummeted. The Empire Builder runs primarily on BNSF's Northern Transcon corridor between Chicago and Seattle, and while there is no indication that BNSF deliberately picks on passenger services on its corridors (and, indeed, the California Amtrak services on BNSF corridors regularly perform with better on time performance than the Starlight which operates primarily on UP track), in the winter of 2013/14, there were substantial bottlenecks and slowdowns all along the Northern Transcon. Farm customers were complaining that their grain and other farm commodities were not moving rapidly enough to meet market needs, and they sometimes had to resort to substantially more expensive truck freight to get their produce to market.
Of course, the Northern Transcon is an example of both of the drivers of traffic, with Seattle acting as "Chicago's Pacific Port" driving substantial intermodal freight onto the Northern Transcon, at the same time that the Bakken Bubble in oil and natural gas fracking was leading to a substantial increase in oil trains operating on the Northern Transcon. There was simply not enough capacity to meet demand ... as evidenced by $6b in investment decided on by BNSF this past year, which is on top of a previous multi-billion dollar investment program that they are presently completing.
When you mix trains that are operating at substantially different speeds, the result is less capacity than when you have trains operating at similar speeds operating on a corridor. As a rough rule of thumb that I overheard at the seminar I reported on three weeks ago, an Amtrak train occupies the rail capacity of five freight trains.
Now, for the long term, that means that if we speed up our freight trains, and establish a national network of Rapid Freight paths, the capacity cost of operating Amtrak services on those will be massively lower than the capacity cost of operating Amtrak services on heavy freight rail paths. At the same time, the class of track that allows for 90mph freight service allows for 110mph passenger rail service, so the Amtrak service would be substantially more attractive, since it would offer substantially shorter transit times between stations on a Rapid Freight network.
However, in the short and medium term, this means that in many cases, even if freight railroads can be required to try to give adequate access to Amtrak, there will often be capital investments required in sidings for freight trains and rail overpasses at "diamond" crossings in order to make it possible to provide adequate access. After all, when there is a long single track section of track, with a slow freight train plodding through the section "as fast as it can go", a daily Amtrak service usually means there is both an Amtrak train somewhere behind the freight train and also an Amtrak train coming toward the freight train. Without sufficient passing and freight siding capacity, the Amtrak heading one direction may be required to sit in a short siding (that is, too short to hold the freight) so that the Amtrak heading in the opposite direction is able to clear the single track section.
 
The Terms of the 2015 Authorization
The new authorization, set to expire in 2019, provides about $982m annually for operation of Amtrak's national network and about $300m annually for capital investment, and about $470m annually for capital investment in Amtrak's NEC. Further, all of the operating surplus generated on the NEC is required by the authorization to be spent on NEC operations or capital needs. So in round numbers, this is an authorization of $8b over five years.
The authorization is about 40% less than previous levels, but as noted above, Congress has not been appropriating the authorized amounts, and so if fully appropriated, it would leave funding at something quite close to the previous appropriations in real terms.
So in football terms, this is not gained yardage ... it is a defensive stop. There was an effort in the House this year to defund Amtrak entirely, and that amendment was soundly defeated ... despite having the support of a large number of committee chairs and radical reactionary Republican Congressmen eager to get in the good graces of Heritage and the Club for Growth.
This is just a hunch, but I am guessing that the provision that all of the operating surpluses generated on the NEC be spent in the NEC will prove to be a long-standing provision. This provision changes the political landscape of Amtrak funding, since it means the long-haul network, which first and foremost provides service to a large number of smaller communities with limited available transport alternatives, connecting them to large metro areas and to each other along the corridor, must have their required subsidies fully funded by Congress. They can no longer be cross-subsidized by the operating surpluses of the NEC (except for the implicit network economies where the arrival of a long haul train in an NEC city makes for a more convenient connection to an NEC service).
The two services that could be most affected by this are the Cardinal, between DC and Chicago via Charlotte, WV and Cincinnati, and the Sunset Ltd, between New Orleans and Los Angeles. These are both three-times-a-week trains, and suffer substantially as a result. Both trains have had systems developed for being upgraded to daily service. For the Cardinal Ltd, this would require a third trainset, which could be provided by the train providing the Hoosier State service, with the addition of the sleeper cars and dining car that the Hoosier State train lacks. For the Sunset Ltd., this would involve extending the daily Texas Eagle to continue through to Los Angeles after reaching San Antonio, with a connecting daily corridor service from New Orleans to San Antonio.
In both cases, an increase in total operating subsidy would be required in order to obtain the substantial reduction in subsidy relative to farebox revenue. And, in both cases, the host railroads have information Amtrak that it would require expensive upgrades to the corridor in order to provide the capacity to be able to accommodate the upgrade from three times a week to daily service.
This authorization seems likely to mean that either upgrade is off the table unless there is some special additional funding authorized and appropriated. Which, given the bad news this week, is one more part of why the "good news" was only "qualified" good news.
A part of the authorization that has been attracting some substantial part of the coverage is a provision that Amtrak work out a "pets on the train" system, following a successful trial of allowing certain pets on designated cars (for a fee) in Illinois. I'm not going to talk about that part of the authorization, except to note that I am largely in favor of the provision.
 
The End of the Hoosier State?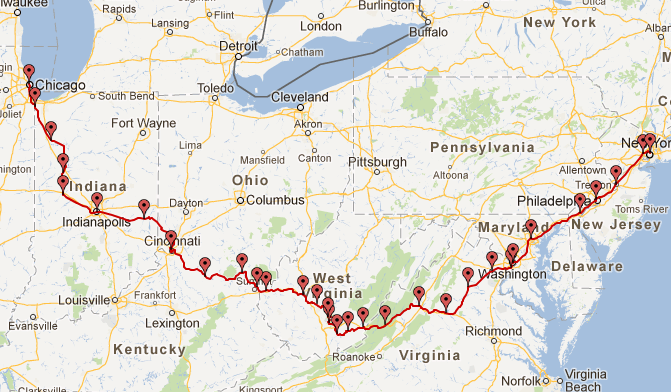 The Hoosier State is the corridor train that runs the portion of the route served by the Cardinal on the four days a week (each way) that the Cardinal does not run. And the Indiana DOT has "pulled the plug":
Indiana DOT said Friday it had failed to reach an agreement with Amtrak and Chicago-based Iowa Pacific Holdings that would allow the service to continue. ...

INDOT last year was unable to come to terms with any private-sector operator of passenger service, and subsequently was unable to reach agreement with Amtrak on continuing the service. Last January the state did grant Amtrak an extension through April 15 in hopes of reaching an agreement.

The turmoil was spurred by a congressional requirement making states responsible to help cover operating and maintenance costs of short-distance trains on routes shorter than 750 miles, except for Amtrak's Northeast Corridor. INDOT Commissioner Karl Browning, in making the announcement, said the state would not move to act as a railroad and cover such costs because it owns none of the right-of-way or passenger equipment. "Requiring a redundant layer of bureaucracy would not create improvements in passenger rail service or safety, it would only increase taxpayer costs," he stated.
What INDOT is fighting is a recent FRA ruling that if Indiana establishes the Hoosier State on the basis that it wished to, the State would then be considered to be operating a railway. As described in the INDOT detailed description of their side of the story:
Under the proposed service, Amtrak would have served as the primary operator, working with host railroads, providing train and engine crews, and managing reservation and ticketing. This would have taken advantage of the priority access and pricing that Amtrak enjoys with the host railroads. Iowa Pacific would have provided the train equipment, train maintenance, on-board services and marketing.
So the system proposed was for a private company to staff the passenger side of the train, provide and maintain the equipment while Amtrak drove the trains, handled ticketing, and used its legal priority to gain the access to Chicago at preferential rates. Since INDOT was the central contractor that acquired use of the equipment and the operators of the train from different companies, the FRA said that Indiana is acting as a railway.
And it is operating as a railway, as INDOT proposed to do, that then requires the extra layer of bureaucracy that INDOT objects to. Operating as a railway, they have to provide liability for the actions of the operators that they hire (up to $200m per incident), monitor compliance with federal rules, and the treatment of some (maybe all?) state employees as railway workers, which has strong implications for retirement and for employer liability that the INDOT would prefer to avoid having to respect.
The argument of INDOT is that since they do not own the equipment nor the right of way, they cannot be a rail
So that is the real fight: if INDOT is allowed to put together the operation of a railway service without thereby being considered a railway, it is willing to operate the Hoosier State, with Amtrak used only for those aspects of the service where there is a benefit in free-riding off of the priority originally accorded to Amtrak when it took over intercity passenger service obligations, and a private operator used for everything else.
If it is forced to choose between being accepting both the downside and the upside of picking and choosing who provided which aspect of passenger rail operations, or try to obtain a private operation under the much higher access charges that the private operator would have to pay to persuade the host freight railroad to let it use the track, or to franchise the entire service from Amtrak ... they are picking the fourth choice, of abandoning the Hoosier State service.
Now, as reported in the Sunday Train back in 2012 there was, at least hypothetically, one standing fix available to the "Hoosier State problem" which would remove Indiana from responsibility for providing operating and maintenance support for the daily train to Chicago. That was upgrading the Cardinal to daily status, which would use the same Amtrak locomotive and the same passenger coach cars that the Hoosier State uses, and add a sleeper car, a baggage car and a dining car to form a third Cardinal trainset. With three Cardinal trainsets instead of two, it would be possible to upgrade the Cardinal from three services each way each week to seven services each way, each week.
If that seems like a small amount of additional equipment to get a lot of extra service (Indianapolis to New York via Cincinnati, Charleston WV and DC four days a week), that is because the current system, running a corridor train four times a week and a long-distance train three times a week, is grossly inefficient in its use of equipment. The Cardinal starts in NYC at 6:45am on "Day One", DC at 11:05am, Charleston WV at 8:16pm, Cincinnati at 1:13am of "Day Two", is scheduled into Indianapolis at about 5am but out at 6am (to cope with delays regularly experienced en-route), and into Chicago at 10:05am of "Day Two". The same train leaves Chicago at 5:5pm the following day for the first service of the week and the same day for two of the weekly services, and gets back to NYC at 9:59 either three or four days after it left. It then leaves NYC either two or three mornings later.
This "dragging the feet" is only necessary, of course, because seven days in the week divided by three days en-route does not come out even. If three Cardinal trainsets were available and their daily operation funded, they could always leave Chicago the afternoon after their morning arrival in Chicago and always leave New York the morning after their evening arrival.
And while the three days a week operation is an inefficient use of equipment for the Cardinal, four days a week operation is also an inefficient use of equipment for the Hoosier State, since it leaves Indianapolis at 6am to be scheduled to arrive in Chicago around 10am, leaves Chicago at 5:45pm to be scheduled to arrive in Indianapolis at 11:50pm ... and several days of the week it just sits, because the Cardinal is performing its service. The reason it only goes to Indianapolis is because getting to Cincinnati would have to leave for Chicago over two hours before it arrived from Chicago, so two trainsets would be required to operate the service.
However, decades of underfunding Amtrak rolling stock means that, for instance, some of the more popular sections of many long haul trains being regularly sold out, so that adding equipment would substantially increase available operating revenue for only modest increases in operating costs. So providing the required equipment to make a third Cardinal trainset likely means waiting until new equipment can be brought into service on the NEC, and then the existing equipment in the best condition rehabilitated to provide the needed passenger car equipment.
The new authorization of Amtrak seems to suggest that this is off the table unless there is some kind of unexpected deal worked out. Even if it had been possible previously to engage in some kind of swap in which Indiana directed some fraction of what it would have spent subsidizing the Hoosier State into capital upgrades, whether equipment or corridor investment or both, in return for Amtrak "finding" some money to cover the increase in total operating subsidy ... Amtrak would have been "finding" those funds in NEC operating surpluses, which are now off the table for use away from the NEC.
 
Conclusions and Considerations
What should be done with the Hoosier State? Should it be maintained? Should the Cardinal be upgraded to daily service?
From my perspective, the answers to the choice ought to be "yes". Yes, the current Hoosier State, leaving Indianapolis at 6am and getting to Chicago around 10am, to turn around and leave Chicago over seven hours later to get to Indianapolis just before midnight (if it runs on time), that could and should be completely replaced by the Cardinal upgraded to daily service.
But the Hoosier State should not be abandoned, it should be flipped. It should leave Chicago in the morning to go south, and then after a reasonably short turn at the end of its run, turn around and return to Chicago, to be serviced overnight and be ready to repeat the route the next day. At the current timetabled speed, this would be Chicago / Indianapolis, Indianapolis / Chicago, but with upgrades to the speed of the corridor, it could be extended into Chicago / Cincinnati, Cincinnati / Chicago.
So, what do you reckon should be done with the Hoosier State, the Cardinal, or, for that matter, whichever Amtrak service or services provide service to where you live ... or, equally important, fail to provide service to where you live?