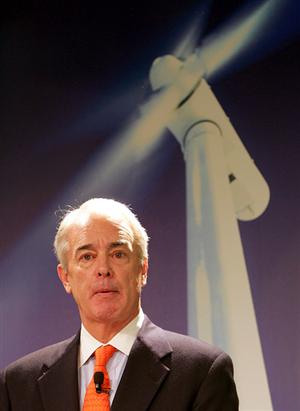 Rethinking the 20th century utility company model ... from a former CEO who started in the 20th century ...
Former Duke Energy CEO Jim Rogers predicts that nearly every single power plant operating today -- aside from some hydro and perhaps a few nuclear plants -- will be replaced by the middle of the century. He called it a "blank sheet of paper" that opens up the possibility of a major transformation for utilities.

Speaking at a recent Brookings Institution event on the future of utilities, Rogers offered his candid take on where the power business is headed. Although centralized natural gas and nuclear are at the top of his list for low-carbon technologies, Rogers said he believed a more distributed grid is inevitable.

"If you believe that climate is a problem -- and I do -- one of the big challenges as we redesign the generation fleet in this country is what will this mix will be," said Rogers. "Utilities need to embrace the future. They need to embrace distributed generation."
Read more at:
http://www.greentechmedia.com/articles/read/former-duke-ceo-jim-rogers-t...