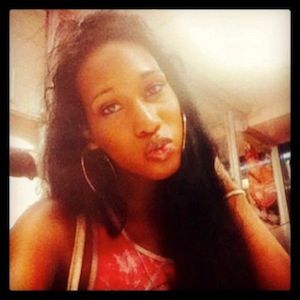 I wrote about Islan Nettles' death. I wrote about the vigil for her and her family.
The New York Times went out of its way to cover an event common to the transgender community: the funeral of Islan Nettles. The article is Embarking on a New Life, Transgender Woman Has It Brutally Taken.
After years of often being hungry and on the verge of homelessness, Ms. Nettles, 21, had recently moved into her own apartment, found a job at an H & M clothing store and was designing her own fashion line.

Most importantly, she had begun to live publicly as transgender. Seemingly overnight, friends and relatives said, she had metamorphosed from a shy and insecure youth into a radiantly confident young woman.
It is a familiar story. We often spend our formative years being shy and retiring, spending our time with ourselves, perhaps surrounded by our books or tucked away in a library, trying extremely hard to avoid attracting too much attention. Attention might be accompanied by analysis and therein lies the danger that our true natures might be discovered and exposed to the world.
But our secret lives that we live in our minds, amongst our readings, and in our dreams come barreling out when we finally transition. Friends and family observe us changing from morose to joyful, from suppressed to bright and shiny.
The problem for Islan was just as it was all coming together, she was beaten to the ground by a young man who had reportedly danced and flirted with her at a party they had both attended, egged on by friends who had become aware that she had been born male. Across Frederick Douglass Boulevard from Harlem Police Area 6 , Paris Wilson beat her remorselessly, battering her beyond recognition. She was in a coma for a week before she was taken off life support and died.
Mr. Wilson is currently free on $2000 bail, having been charged with misdemeanor assault in the immediate aftermath of the attack. A grand jury is considering more serious charges after a case was presented by the Manhattan District Attorney's Office.
Ms. Nettles's death has incensed New York's transgender community. Many have experienced violence themselves and have spent years overcoming past abuse, depression and thoughts of suicide. And though the leaps toward equality made by gay men and lesbians in recent years seem to have left transgender people behind, they have become more visible in politics (Mel Wymore is running for Manhattan's 6th City Council District…we await the results with bated breath), entertainment (Laverne Cox starring in Orange is the New Black) and sports (Fallon Fox has made a splash in mixed martial arts).
The death of Islan Nettles has lit a spark with many in the trans community. Although violence toward trans women is far too common and many of us often have varying weapons we carry on our persons to protect ourselves, many of us still do our best to live productive lives and not stay shut in our apartments.

Rather than make us go into hiding, we are more determined than ever to stand up and be visible.

--Kiara St. James, 39, a transgender woman who lives in Brooklyn and works for an organization called TransJustice
The National Transgender Discrimination Survey Injustice at Every Turn (pdf) found that 61% of transgender respondents had been victims of physical assault.
Been there. Done that.
According to friends Islan was never fearful, even when in the meanest streets of Harlem. Coming out seemed to imbue her with an irrepressible confidence. she was a frequent sight walking her Yorkie, Chip, through the neighborhood.
Family members and friends have not been using female pronouns 100% of the time…which has disturbed some in the community.
People would stop me and ask where he got his hair styled.

--E'lana Nettles, sister
People would sometimes laugh at Islan and/or shout epithets.
He didn't care. He was always comfortable in his skin. He knew what he was worth.

--Dejia Ferguson, 22, friend
Daequan Andino, friend and mentor, says when he met Islan, she was "this curly haired, pretty young man" who was reluctant to speak.
Andino helped her participate in her first fashion show in 2010 with about 20 original pieces, all hand stitched.
After graduating and beginning transition, Islan had a falling out with her mother and left home. For a time she surfed friends' couches.
But she had finally risen out of that. she had received her Associates Degree from CUNY City Tech (where my partner teaches part time) and dreamed of attending the Fashion Institute of Technology.
She was finally going to start living her life. Every time I saw her in the street, I was like, 'Girl, you are doing it.'

--Andino
Islan was looking forward to presenting 10 outfits at Mr. Andino's Ay'Medici during Fashion Week. She had reconciled with her mother.
Life was good. But then it was over.
He is in a better place where they're not going to get him and it don't matter about your sexuality. He is living better than we are.

--Delores Nettles, mother
Islan was laid to rest in a mahogany casket covered by a white veil to conceal the damage done during the beating. Delores Nettles had dressed her in a pink sequin dress. The casket was covered with pink roses.
Reverend Vanessa Brown presented a sermon against hate at St. John Pentacostal Church on Lenox Avenue and 132nd Street.
We are valuable and we are vital. Islan's life was valuable and vital and it remains so in death.

--Rev. Brown
Members of the transgender community congregated outside the church to honor her passing and express their outrage at her death.
This should have never happened. Everyone has a right to live how they want to live ... Nothing will bring [Nettles] back. That's something I know, but I still wanted to be here to comfort the family.

--Franclot Graham, father of an unarmed teenage boy killed by a police officer in The Bronx, who had lived near Nettles and her family in Harlem
The Reverend Al Taylor of Man Up Harlem expressed outrage at the attack and the subsequent silence of Harlem's religious leaders.
The antidote to all of this is love. Where are all of my clergy?

--Taylor
Here we are on the 50th anniversary of the March on Washington, and while it's a day to celebrate we are mourning a victim of prejudice, which Dr. King wanted us to avoid.

Sometimes out of tragedy comes change and the fulfillment of a promise.

--State Sen. Bill Perkins
If you have the time and inclination, I invite you to read Janet Mock's post about the vigil for Islan.
I'll end with this:
Trans lives matter! Justice for Islan Nettles! - a multimedia photography piece from seyi adebanjo on Vimeo.